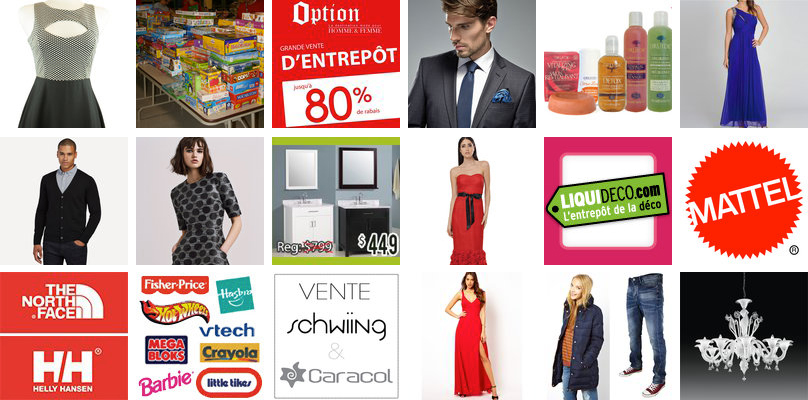 10 Mar

March warehouse sales not to be missed!

March is the month when spring comes around and it is also when warehouses and sample sales return! Incidentally, this is the perfect time to shop for your prom dress or suit at a bargain price. The nice weather is back, why not take the time to get out and shop around here and there for some great deals!


For more information about a sale, you can click on the picture or the name of the sale.

Liquidation! 80% off quality lighting
Until March 13
Last chance! Manufacturer's bankruptcy ends March 13. Everything must go! Prices slashed by 80% on high quality crystal cut glass and Murano lighting systems. We have table lamps, ceiling lamps, chandeliers, floor lamps and sconces.

European fashion at wholesale price
Until March 18
Great sale of women's clothing! Pay the wholesale price on European collections.

50% off sample women clothing
Until March 18
Save up to 50% of retail price on sample size apparel for women! Pants, jeans, long sleeved shirts, ponchos, dresses from $22 to $55. Only open on Saturdays.

Body care products save up to 70% off
March 6 to 9
DRUIDE body care products warehouse and online sale. March 6 to March 9, save up to 70% off on a wide selection of certified natural and organic body care products made in Quebec. Baby care, skincare and outdoor products, body lotions, etc.

Ontario – Toys & books warehouse sale
March 7 to 22
Samko & Miko toy and book warehouse sale will be held in Etobicoke and Richmond Hill, March 7 to 22. Thousands of brand name toys, books, crafts, games, and puzzles at a the lowest prices in Canada. Fisher Price, Barbie, Crayola, vtech, Mega Bloks…

Cocktail and evening gowns at $30+
March 11 to April 30
Looking for a special dress that highlights your silhouette! Evening dresses, cocktail dresses, prom dresses, for mother of the bride, for bridesmaids starting at just $30. Find your dream dress at Anaïs Design and still stay within your budget.

Ontario – Mattel Outlet warehouse sale
March 12 to April 4
Big warehouse sale at Mattel Outlet in Mississauga, Ontario! Save up to 60% off Mattel toys and games: Barbie, Disney, Hot Wheels, Cars, Batman, Fisher Price, Uno, Skip-Bo… Re-stocked weekly.

Toronto – Frank & Oak warehouse sale
March 18 to 22
Frank and Oak warehouse sale in Toronto, Ontario. From March 18 to 22, save up 70% off. Deals on shirts, outerwear, bags, pants, sweaters and more. From fine Merino wool to soft cotton to genuine leather goods, everything is on sale.

Warehouse & sample sale up to 80%
March 18 to 29
March sales at Premium Retail Group! March 18 to March 29 only! Get 50% to 80% off popular brand name samples and overstock clothing for men/women/kids during our warehouse sale. Also, 50% off The North Face & Helly Hansen Spring 2015 sample sale.

Home decor sale – Save up to 80%
March 20 to 21
Manufacturer's sale on March 20 & 21! Bed covers, bed linens, window coverings, decorative cushions, carpets and many more home decorating items. Great savings up to 80% off retail prices. Do not miss this liquidation sale – we pay the taxes!

Prom & evening gowns warehouse sale
March 21
You need the perfect dress for a special occasion? Don't miss JS Group International warehouse sale on March 21st to find the dress of your dreams: evening dresses, cocktail dresses and many more.

SCHWiiNG & Caracol mega warehouse sale
March 25 to 28
SCHWiiNG mega warehouse sale is back with Caracol jewelry and Mamzelle Dimanche! Clothing and jewelry on sale up to 70% off! Cocktails, DJ, fun & small prices! Don't miss it!
Register for the VIP sale opened to all, shop before the official sale & enjoy a better selection!

Flea Market for Young Families
March 28
The Association des familles de Varennes (AFV) wishes to invite all young families to its biannual flea market on March 28th. This is a great opportunity to buy baby accessories, clothing, toys and much more, at low prices.

Vanities and Flooring Winter Clearance!
Until March 31
Specials at Golden Elite Deco Centers: vanities as low as $349 with free delivery*, laminate flooring $1.29, hardwood $2.99, doors $99. Also, kitchens, mosaics, marble tiles, decking, adhesives… All the products are high quality with warranty.

Dress & Gown Sale – starting at $99
Until March 31
Find your designer red carpet dress at Très Chic Styling without breaking the bank! Save up to 80% on our evening & cocktail dresses, prom, graduation, mother of the bride, bridesmaids, baptism, bar & bat mitzvah, evening, cocktail & party dresses.

Menswear high quality fashion up to -80%
Until March 31
Come see our new collection of shirts! Direct sale of the importer for a limited time. Save up to 80% off on 2014 collections. High-end quality dressed or casual clothing: suits, jackets, trousers, shirts, ties & shirts.

Save up to 50% off on Prom dresses
Until March 31
Prom, bridesmaids, mother of the bride dresses starting at $100. Save up to 50% off retail price! Special promotion: buy 2 dresses & and get the 3rd dress for free. Wedding gowns and accessories also available. Dress designer on site.

Men & women clothing, swimwear mega sale
Until March 31
Men and women's clothing & swimwear mega sale. Save up to 80% off on pants, dresses, swimsuites, t-shirts, shirts … And much more! Frank Lyman, Parasuco, Joseph Ribkoff, Simon Chang and many other great brands.

Up to 80% off! Cream Soda, Bench, Covet
Until March 31
Liquidation sale! Everything must be sold. Save up to 80% on men and woman clothing our warehouse. Amazing deals on brands such as Cream Soda, Bench, Calvin Klein, Jack & Jones, Covet, Vero Moda, Noize and much more! Hurry! While quantities last!
In March, both nature and our wallet emerge from the holidays slump. It feels good! To see all the warehouse and samples sales, click here or go to allsales.ca!
Happy savings!