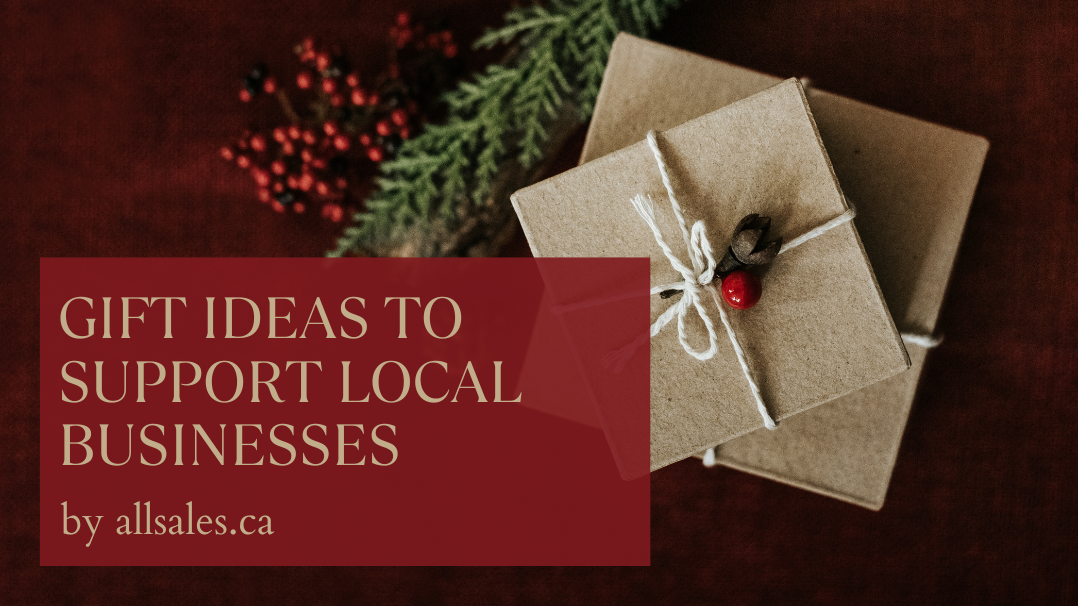 05 Dec

Gift Ideas to Support Local Businesses

Holidays are just around the corner, and so is Christmas gift purchasing! We are giving you gift ideas that are made with love by local entrepreneurs. 


Entrepreneurship is very dear to us, allsales.ca itself being born from a family initiative in 2009. We understand the hard work and efforts behind every new idea and the  desire to get your business known. That is why it is important for us to feature local entrepreneurs that work hard to have their products shine in Quebec households.

A very special gift idea for wine lovers: the electronic wine aerator! Shop CAVAVIN today and get 60% off with the promo code AERA2002. 

" For us, Schwiing Apparel is more than a brand, it's a destination! Our goal is simple: To offer collections with a strong diversity of styles and thus meet the needs of women who are looking to get all their clothes in one place."

Shop L'Enfantillon's new fall-winter collections! Get 50% off kids and maternity clothing samples and shop our liquidation section.

" Shop moi ça is us, the Shop sisters and our team! Passionate about shopping and 100% local gifts, we are a Quebec-based company run by women and offering gift boxes for everyone and for every taste. "
Surprise box - Young girl
" Ideal for girls 5 years and older, including teens. This box is also perfect for those who want to spoil adults with a child's heart… those who are into colorful and playful products. And of course, I'm thinking of the educators and teachers who share the enthusiasm of the little ones. "
Learn about Callitee, a young Quebec company born from an all-female initiative, created by a mother and her daughter.
" Spreading happiness one candy at a time is our slogan. But what we want most of all is to see you smile while tasting a little bag of candy and share this emotion with your family and friends. "
Ta peau ton fruit offers natural and Quebec cosmetic care based on organic wild blueberries from Lac-Saint-Jean.
" From a grandmother's recipe from the Magdalen Islands, we have created unique caramels that will satisfy your sweet tooth. "
Don't forget to share your favorites with the people you lot! It is the best way to promote your favorite local businesses.