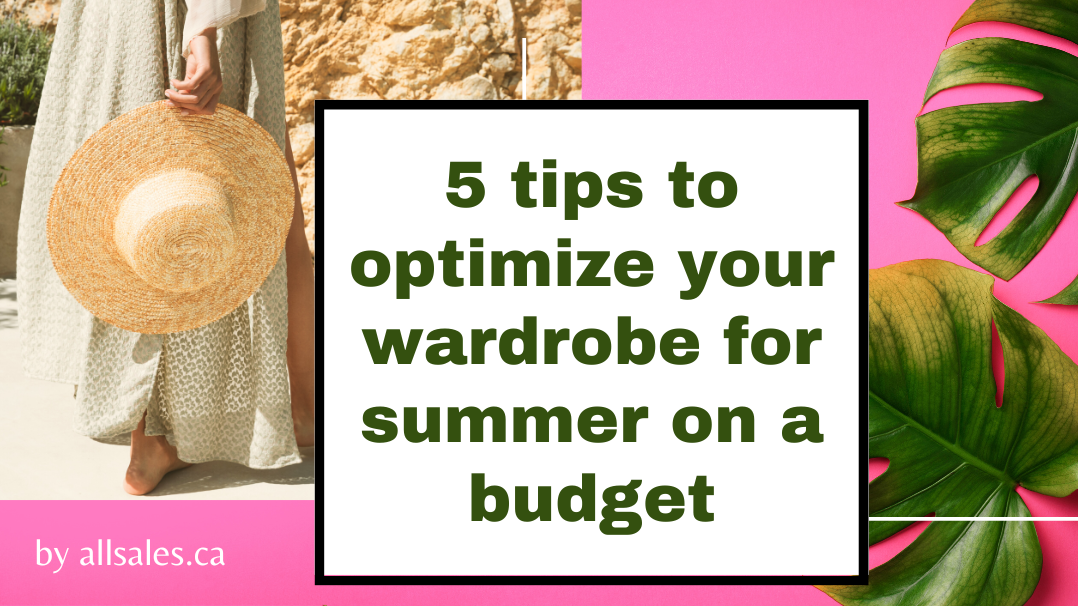 08 May

5 Tips to Optimize Your Wardrobe for Summer on a Budget

Summer is for sunshine, beach, pool, and moments of relaxation. It is also a season where we often need to renew our wardrobe to adapt to warmer weather. However, it is not necessary to spend a fortune to have a stylish and functional summer wardrobe. Here are five tips to optimize your wardrobe for summer without breaking the bank.
Sort through your wardrobe
Before buying new clothes for the summer, sort through your current wardrobe. Remove anything that is too hot for the season, too small, or worn out. This will allow you to see what you already have and what you need to complement your wardrobe. It can also help you discover pieces that you have forgotten and that you can reuse for the summer.
Timeless pieces are clothes that never go out of style and can be worn year after year. Instead of buying fashionable clothes that will be out of style next season, invest in timeless pieces. They can be easily combined with other clothes to create a variety of summer outfits. For summer, versatile basics include t-shirts, tank tops, shorts, and lightweight dresses. Go for neutral colors like white, black, or beige to maximize the versatility of these pieces.
Buying clothes on sale and shopping for deals is a great way to renew your summer wardrobe on a budget. Many stores offer sales before summer to get rid of their previous season's stock. This can be a great opportunity to find quality clothes at discounted prices. You can also keep an eye on online sales to find great deals. Stay true to your style and needs while taking advantage of sales to save money on pieces you were already looking to buy.
Bright colors are perfect for summer as they add a touch of cheerfulness to your outfit. Dresses, shorts, and tops in bright colors such as pink, yellow, green, or blue can add color and liveliness to your summer wardrobe. You can also add colorful accessories like jewelry or scarves to complement your outfit.
Accessories can transform an ordinary outfit into a stylish and trendy one. Hats, sunglasses, bags, and jewelry are all essential accessories for summer. You can choose second-hand or budget-friendly pieces to add variety and value to your wardrobe.
It's important to remember that summer is a season for relaxation and fun, and your wardrobe should help you feel comfortable and confident without compromising your budget. We hope these tips have been helpful to you!