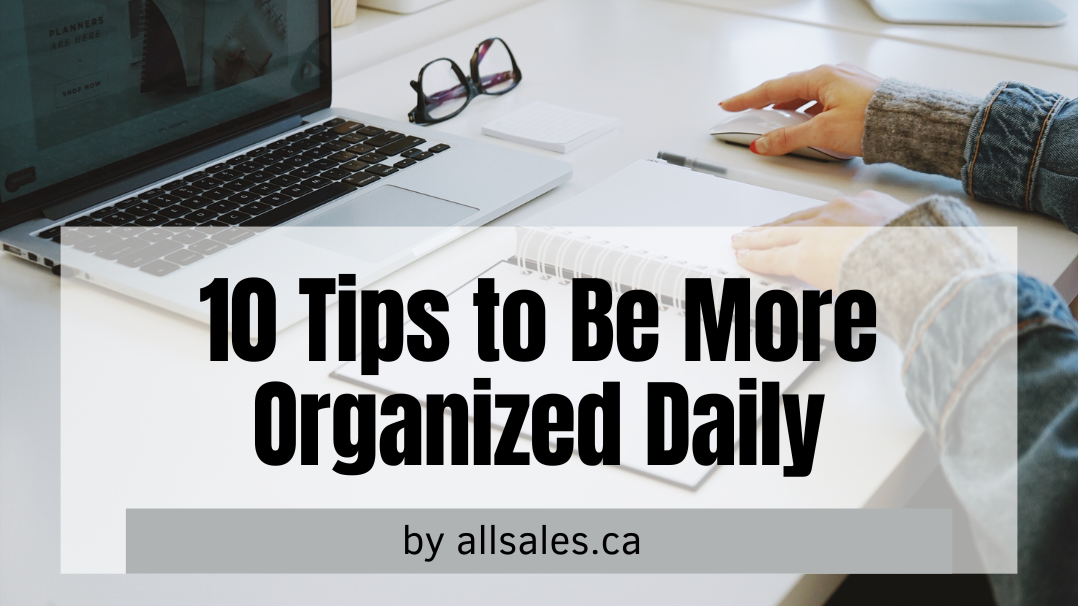 26 Sep

10 Tips to Be More Organized Daily

Time flies, and the days go by faster than we realize. It's easy to feel like you don't have enough time and energy to get everything done. Being organized is the best way out! Here are 10 tips to be more organized on a daily basis.

And the emphasis here is on the word "doable"! The best way to clear your head is to organize your thoughts and to-do's into one or more lists. But be careful: be realistic and make sure you prioritize.

When making your lists, make sure you make the difference between things that are urgent, things that are important, and things that can wait. This will help you get the most urgent things done and take the weight off your shoulders.

When trying to be more organized, you may feel like you are running out of time. One of the reasons is probably because you spend unnecessary time on your social media. Limit your consumption and turn off your notifications. Be alert when you have the reflex to take your phone for no reason. You will notice a big difference in your free time during the day.

Another time-consuming thing in a week is meal preparation. Here are some time-saving tips:
Cook bigger quantities.
Make a simple menu and follow it.
Prepare meals in advance (like in the weekend).
Use prepared meal services like Cook It or Hello Fresh.

Whether it's for your personal planner, your work planner or the family calendar, using a color code will allow you to easily recognize priorities and be more alert.

Each new season brings a desire to renew your wardrobe. If it's been a while since your last wardrobe cleaning, now is the time to reorganize it. This will save you time each morning when it's time to get dressed for the day.

Have an Efficient Workspace
Whether you are working at the office or working from home, it has been proven that having a pleasant and optimal space promotes concentration and performance.
Apply these few tips to optimize your workspace!

A high level of stress affects your level of productivity. Apply daily techniques to reduce your stress, whether it's reading, walking, yoga, meditation, etc. Schedule alerts on your phone to take a break in your busy day. This will allow you to concentrate better.

A routine takes practice. Start by integrating one thing at a time, repeat them daily and your routine will be established more and more easily. Important things will become automatic and you will be more confident in not forgetting anything!

You don't have to do it all alone! Delegating will free your mind to focus on the most important tasks, while reducing your stress.