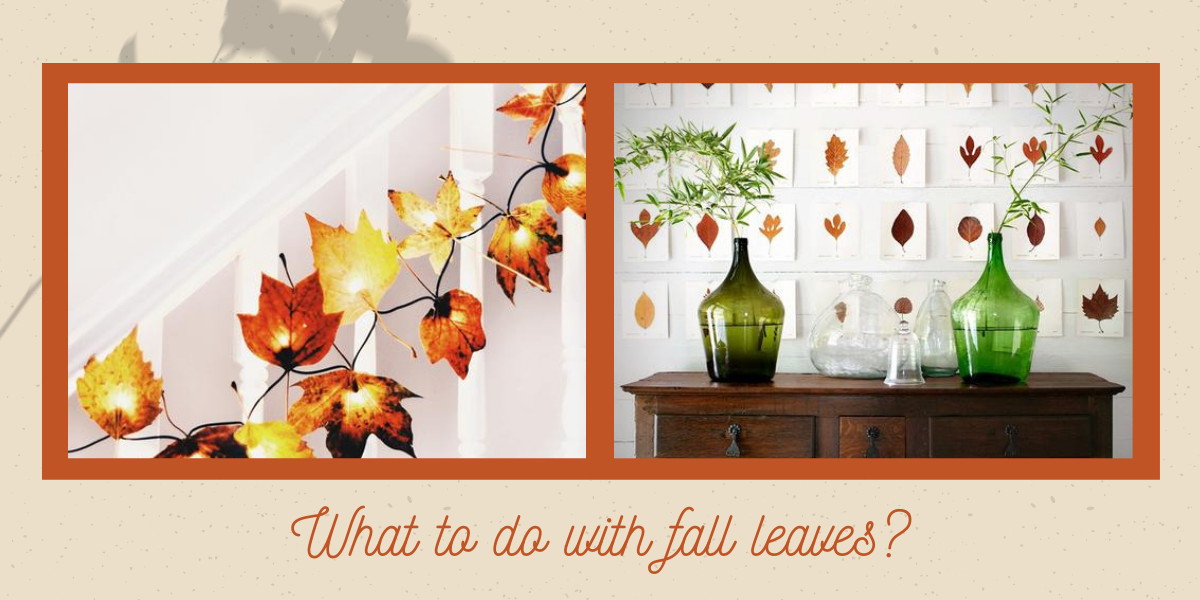 12 Oct

What to do with fall leaves?

The beautiful fall colors are finally here and leaves will soon start to fall. In opposition to popular belief, it is always better to leave dead leaves on your yard, this helps small animals and produces a natural fertilizer for your lawn. On the other hand, too many leaves can suffocate your lawn. You can therefore use the surplus to put it in your flower beds, compost, mulch or try our DIY ideas below!

Create your own pattern by buying fabric paint. Soak in your leaves and stamp them on the fabric of your choice. Let it dry and here you go!

Press your leaf on a thin clay layer then cut out around the leaf. Let it dry and you will get gorgeous clay bowls.

Instead of cutting out your pumpkins simply paint them with the color of your choice and glue some leaves on top!

This original decoration is super easy to do! Just glue your leaves on thick paper and hang them on the wall.

To make this beautiful garland you will need a garland of small lights to which you will glue your leaves with warm glue.

All you need to make this garland are glitters, ribbon and leaves! To make the holes to hang the leaves we suggest using a punch.

To do these cute labels paint the leaves with the colors of your choice and stamp them on labels you cut out of cardboard. Punch a hole in each one and hang a little ribbon on it.

Create wonderful homemade bookmarks by cutting out the shape of a leaf from an old book or a newspaper (use a real leaf as a template). You can then decorate it to your liking!

Want to give a fall look to your house? Paint your leaves in lots of colors and hang them on a large rope or ribbon. ou can choose a feathered style or anything else you want!

Brighten up your home while having a cozy atmosphere with these beautiful Halloween candle holders! Glue your leaves on a Mason jar with a glue-varnish using a brush, put a candle inside and there you go! The candles can be real ones or in plastic.

You now have no excuse to put your leaves in the garbage! Don't hesitate to show us your gorgeous creations.