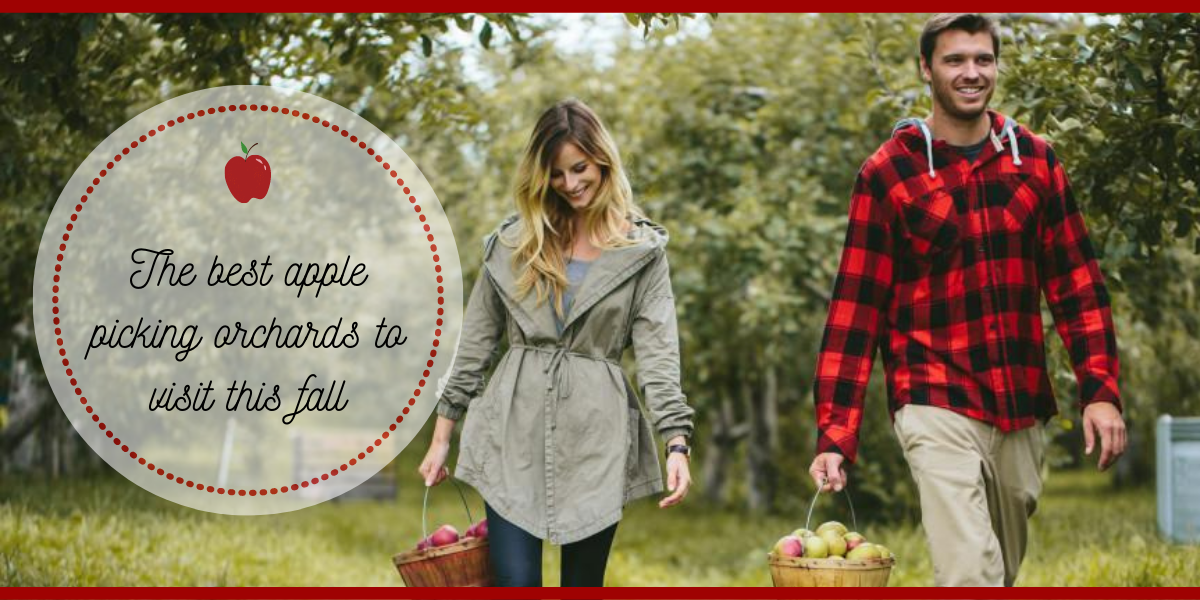 14 Sep

The best apple picking orchards to visit this fall

Apple season has now started! Wondering where to go this year for this activity with your partner, family or friends? Here is our list of the best orchards across Quebec!


Cidredie et Vergers St-Nicolas – Lévis

Perfect for apple picking with your other half and to taste one of their famous cider or apple must! You can even take a guided tour to learn more about Quebec's cider history.
Verger Bio des Sources – St-Georges-de-Windsor
This orchard offers organic apples that will make your mouth water! Organic Paulared, Cortland and Spartan will be available this year.
Want to see lots of animals while picking apples? The Verger Champêtre offers you this and even more! You can take advantage of the rural stopover, the farmhouse, animal parks, the interpretation center and even walk with animals.
Verger de l'Hirondelle – Île d'Orléans
If you are looking for an enchanting place to pick your apples this year, the Verger de l'Hirondelle is the place for you! Since it is located in the heart of l'Île d'Orléans you can even take the time to tour the Island and discover other local products.
Verger de la Falaise – Saint-Antoine-de-Tilly
The Verger de la Falaise is the best place to pick apples while having a breathtaking view of the St. Lawrence River! Plus, enjoy a wide variety of apples, Paulared, Sunrise, Ginger Gold, Lobo, Primgold, McIntosh and a lot more!

Verger du Pirate – Saint-Antoine-Abbé
Besides apple picking, this ideal-for-kids orchard, offers tractor rides, entertainment, a playground, inflatable games, a rabbit house and a picnic area. Don't miss your chance to go on an adventure with captain Pom-Pom!
Verger et miellerie Labonté de la pomme – Oka
This Oka farm will know how to please you with its apple cabin and its antique wood-fired oven. You can take advantage of the picnic area to eat your tasty apples or to enjoy their delicious gourmet recipes. You can also visit the mini-farm, the beehive and the maple syrup kettle!

Verger La Magie de la pomme – Saint-Eustache
The Verger La Magie de la pomme is the perfect place for a family activity! In addition to apple picking your kids will have the chance to meet princess Api. You can also enjoy a good meal at the Bistro La Dent Sucrée!

Verger la Pommalbonne – Compton
The Verger la Pommalbonne offers you apple and pumpkin picking, a pretty farmhouse, inflatable games, tractor rides and a picnic area to savor your delicious findings!

Verger la Pommeraie d'Or – Marieville
Apple museum, interpretation trail, apple picking, games, farmhouse, corn maze, tractor rides, the verger la Pommeraie d'Or has everything to offer! You will surely spend a great day with your family!
Verger Labonté – Notre-Dame-de-l'Île-Perrot
This eco-responsible orchard offers wellness workshops, labyrinths, a bistro and, of course, apple and pumpkin picking!
Verger le Comte de Roussy – L'Ange-Gardien
The Hébert family invites you to come and pick one or more of their 9 apple varieties! It's also possible to use the picnic area and enjoy the great outdoors.

Verger les Roy de la pomme – Saint-Georges de Beauce
The Roy family offers you fruit picking (apples, blueberries, plums and pears), tasting, games for kids and a picnic area! Perfect for a nice family time.