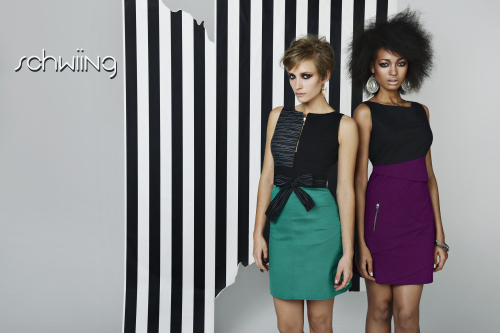 16 Sep

Sale Preview – SCHWiiNG Fall Warehouse Sale
Looking for an idea for a girls night out? Want to get designer fashions at a discount price? With its fitting rooms, a DJ on site, cocktails and great deals, SCHWiiNG's warehouse sale is a must! In this post, discover the styles available at sale and the prices awaiting you.
Dresses and tunics from SCHWiiNG are always comfortable and stylish. Plus, the majority don't need ironing, incredible! The sale offers prices between $10 and $50 for dresses and tunics. Here are some of the styles available starting September 18th!
SCHWiiNG also offers very stylish tops. Paired with your favorite skirt or pant, they will definitely make a hit! The tops will be priced between $20 and $30.
Get one of these T-shirts and skirt for only $20!
Don't go unnoticed with a coat from SCHWiiNG's collection! You can get one between $30 and $ 80 at the sale, wow!
Complete your look with a perfectly fitted jacket! They will be sold between $10 and $40, what a great deal!
The sale also offers hoodies at $30 and scarves at $10. For your men, t-shirts at only $10!
SCHWiiNG's warehouse sale will take place September 18th to the 21st, more details about the sale here.
Happy shopping!