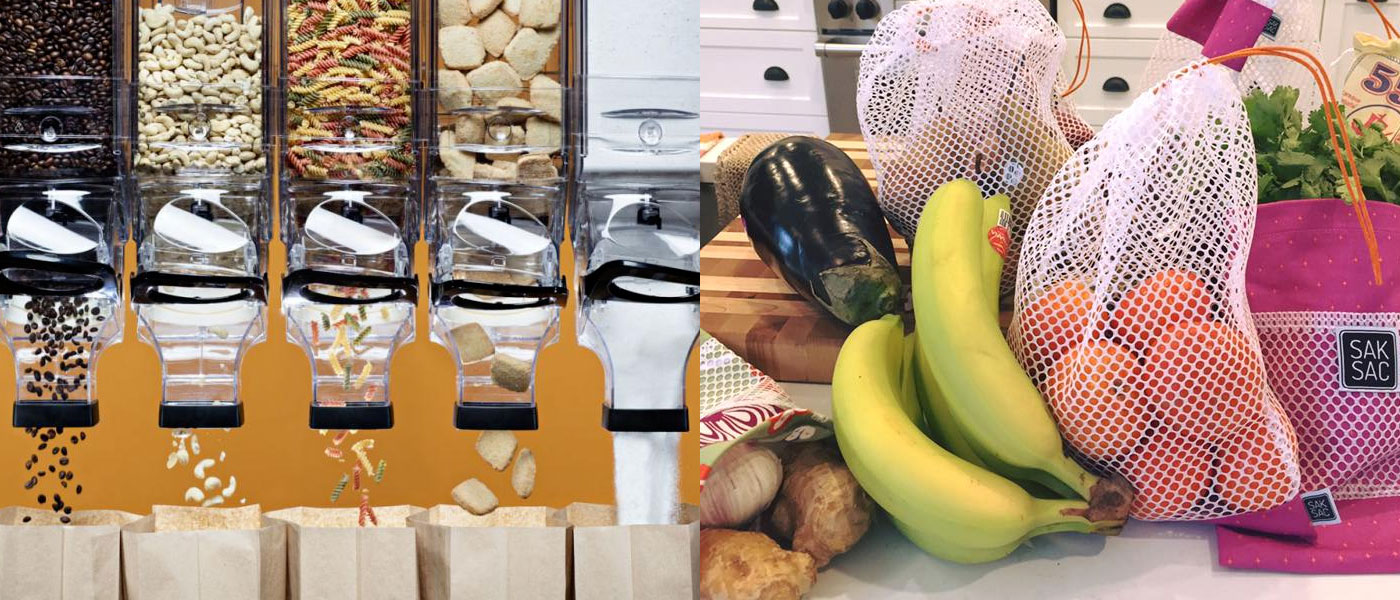 20 Jul

Planet friendly shop and save – Part 1

You like to shop around and save money, but sometimes you get surprised by the amount of garbage bags you produce each week? And what about the recycling bin always needing to be emptied in the large one outside? You may have heard of the "Zero Waste" movement that is gaining thousands of followers around the world, thanks to Bea Johnson's conferences?

The movement is gaining much attention and popularity in Quebec, and several local blogs are sharing ideas to minimize waste. Since we love to shop discounts and keeping our planet healty, we thought we could list out some tips to help combine both!

At the grocery store
Choose products with less packaging or sold in bulk. Often, you will save money, because in the end the consumer is paying for nice packaging and not the compagnies!
Limit your consumption of styrofoam packaged products, since they can't be recycled. Minced meat, packaged vegetables, etc.
For meat, it's hard to avoid styrofoam, unless you go to the butcher shop. You could opt for family sizes that are often cheaper, and freeze in smaller portions. This way, you can reduce the amount of styrofoam you throw out.
Bring reusable vegetable bags, and avoid small plastic bags offered in grocery stores. The difference in weight will barely be perceptible by the scale.
You may have heard about SAKSAC? They offer trendy bulk bags or vegetable mesh bags. In addition, they're handmade in Quebec, by social and professional integration associations.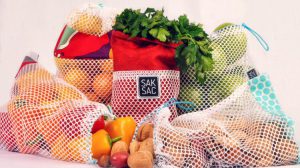 Buy more, without wasting!
On shelving price labels, the price is always indicated for comparison by weight (per 100g), or volume (per 100ml), etc. You can easily find which one is cheapest, for example crackers, cereals or yogurt. You will notice large family sizes are often cheaper than smaller sizes on sale!
This means instead of using several packages, you can only buy one large box/bottle.
Freeze your extra meats and vegetables in Tupperware containers. More robust, they will not break unlike cheaper containers. Food will keep fresh longer, avoid cold burns, and ice block vegetables or fruits.
Prepare larger recipes, and freeze in individual portions. Perfect when you don't know what to bring for lunch, or when you don't feel like prepping one in the morning. This means less restaurants bills, and less lunch packages from the grocery store.
Bring your snacks in a plastic dish instead of a ziploc bag. Your fruits in a mesh bag, to prevent them from falling into the bottom of your bag.
For your purchases
Going on a shopping spree or at the pharmacy? Reusable bags will also be useful! Some foldable models can easily fit in your purse, or leave a few in your car.
If you forget your reusable bag and make a purchase, think of putting all future buys in the same bag. This way, you'll end up with only 1-2 bags instead of 7-8 bags at home.
You can also reuse your plastic bags in your small garbage bins around the house: bathroom, in the living room, in the basement, etc. If you can avoid buying garbage bags, it's a good thing for your budget and the environment!
And paper…
Choose products made from recycled or reused materials (toilet paper, paper sheets, etc.)
Put the "No Flyers" sticker on your mailbox. Pretty much all store flyers are available online. You can also download mobile apps, which allow you to search for the best discounts! Ex. allsales.ca for discounts/sales and Reebe or Flipp for store flyers.
The important thing is to go one step at a time! Above all, don't try to impose yourself a new way that doesn't fit with you or your lifestyle. No need to be radical and aim for "Zero Waste", you can simply find ways to reduce where you can. After a few months, if it's a success, you might want to asses other areas where you could reduce, and find new ways to improve yourself.
Hopefully these tips will help you, happy shopping and savings!
Allsales.ca's Team