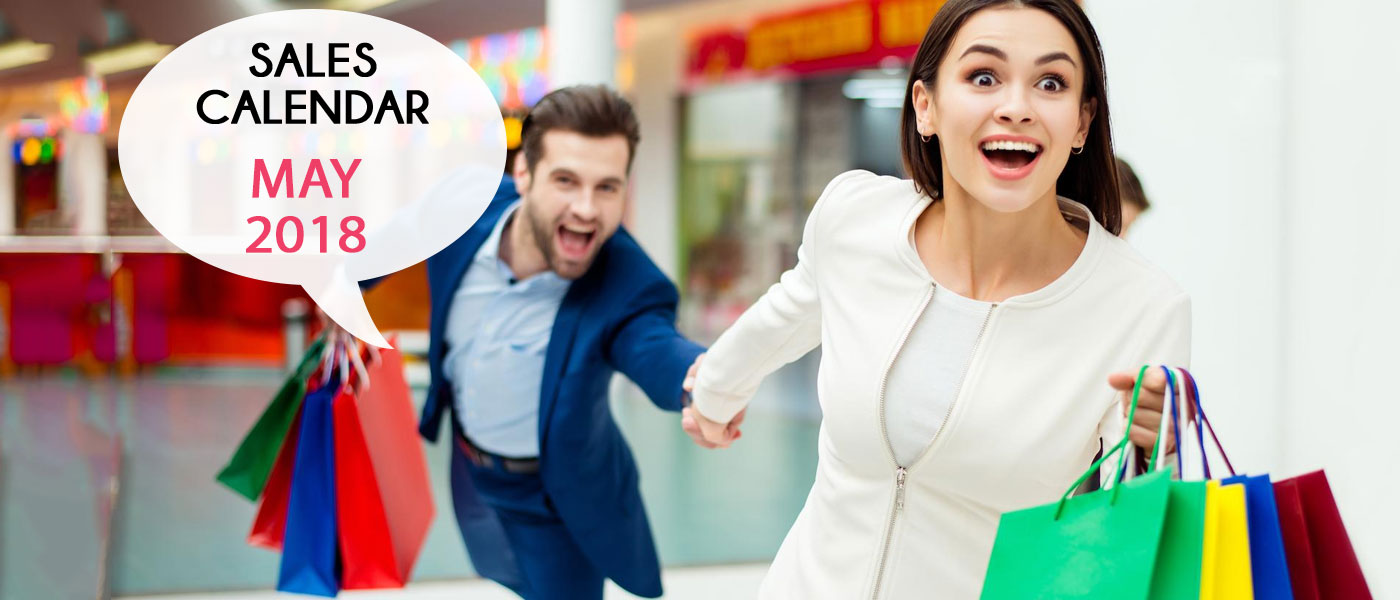 01 May

May 2018 sales not to be missed!

 In this brand new blog post, we are listing all sales happening in May 2018, and that you don't want to miss! Including: Ango Mode, Montval Plumbing, OK KIDS, Taz Basement, Omaïki, DK Company, Throat Threads and many more!
FEATURED SALES
Ango Mode's sample sale is coming soon, only 3 days, on May 3-4-5! Get discounts on renowned brands for men such as Hörst, Modango, Klauss Boehler and Soul of London. Great selection of shirts, coats, suits, pants, denim, etc.
---
Spring sale at Monval! Save up to 50% off bath & sink faucets, save $500 to $920 on a complete bathroom set including: toilet, bath, bath & shower faucet, sink and bath drain!* More than 1 million of inventory to liquidate!
---
OK Kids huge warehouse sale from May 9 to 20 in Montreal! Save up to 80% on brand name kid's clothing (0 to 14 yrs): Nanette, Minoti, Babaluno, Les Deux Capitaines, Baby Grand, Petit Lem, Petit Point, UBS2, Tigloo, Little Lass, Gusti, Blizz, etc.
---
Denim Tuesday promotion at Taz Basement. Buy 1 pair of jeans and get the 2nd at 50% off. Brands such as : Diesel, G-Star, Guess, Scotch & Soda, Levi's and more!
---
Fresh Home Fashions – Our famous "Bed Sheet Sale" is back for 4 days only! Thursday May 3 – Sunday May 6 2018. Big choice of colors and patterns in all sizes, starting at twin 2 for $25, double 2 for $35 and queen 2 for $40.
---
Throat Threads Apparel sample sale event in Toronto, 1 day only, on May 9th! Save on women's designer apparel, featuring Parker, BRAX Feel Good and Collections Andrade.
---
MANY OTHER SALES
There's no better way to find the perfect clothes in Sherbrooke than to attend The Big Fashion Sale by Quebec Designers (also known as the Braderie), running May 3-4-5 2018. It features more than 40 designers and discounts up to 80%!
---
Groupe JS International warehouse sale, on Saturday May 5th. Designer designs at warehouse prices! High quality clothing ranging from prom dress, to casual wear or evening dresses, bridesmaid, mother of the bride. Large selection & sizes available.
---
The André Dallaire sample sale will be open to the public for 3 days, on May 2-3-4. First come, first served. Even if it's chilly outside, it's time to redo your wardrobe for the summer! Nixon – Volcom – Plenty – Roark – Captain Fin – Mizu.
---
PonyRide sample sale May 3-4! Save on clothes, bags & shoes from Rails, Charli, South Parade, Solillas, Misa Los Angeles, Heartloom, Pitusa, Boy Smells, Star Mela, Cartel, Naked Vice, Faithfull The Brand, Project Social T & other top brands.
---
La virée des ateliers expo / vente will take place May 3rd to 6th. More than 100 designers in visual arts, craft and fashion design in Montreal open their studios!
---
Mega sale on women's clothing imported from Italy at the Maska Mode outlet store at Fairview Pointe-Claire. Come treat yourself with unique fashion clothing pieces from Italy starting from $29,99. Be the first for best choice!
---
For a limited time, this exclusive designer sale offers prices 50-80% off retail on brands that never reduce prices!
---
Come see us on April 25th for our special VIP event and take advantage of exceptional discounts at Chaussures Leclerc warehouse sale in Quebec City! Save 50% to 90% on shoes, sandals and handbags for men and women!
---
Mega sterling silver jewelry sale – 9-10-11 May 2018. Save up to 80% off retail on sterling silver jewellery brands with crystals and many more!
---
From May 2nd to May 6th, don't miss the Spring handbags sample sale by Christopher Kon and Colab! Save up to 50% off on handbags, wallets and small items. Excellent selection of synthetic and leather wallets and handbags.
---
Giant Saint Hilaire warehouse sale on May 11th and 12th, up to 80% off on fashion items from the spring-summer 2018 collection. Clothing and night robes for men and women, accessories, swimwear, sportswear, pajamas, Chantelle & Passionata lingerie.
---
Omaïki's warehouse sale in back, one day only, on Saturday May 12th! Enjoy huge deals: samples, clearance, overstocks, old collections, seconds and much more. Up to 70% off on products for babies, children, women, focusing on the ZERO WASTE movement.
---
Shop the largest puzzle warehouse in Canada @ JigsawJungle.com and SAVE 10-75% OFF suggested retail prices on adults and kids puzzles and accessories. Ravensburger, White Mountain, Heye, Educa, Trefl, Cobble Hill, Jumbo & more.
---
Shop the fancy wear for First Communion, Confirmation, Christening and weddings at Goldtex! Choose from our large selection of dresses, suits, ties, shirts, and dress shoes. Top quality brands, all at great prices! Sizes: 0 to 16 yrs.
---
Designer footwear & handbags sample sale, only from May 10th to 12th! A sale not to be missed!
---
Lanctôt invites you to its warehouse sale, May 3rd to 5th and May 10th to 12th, 2018. Save up to 60% off on sportswear apparel, hats & accessories. Luhta, Swix, Eider, Colmar, Nivo, Sligo, Reima, Canadian Hat, Louisville Slugger, DR Sports.
---
Throat Threads Apparel spring sample sale event in Montreal 3 days only, on May 3-4-5! Save on men's & women's designer apparel and men's footwear. Parker, John Varvatos, Robert Graham, Brax, NYDJ, Base London.
---
The Jasmine Rose sleepwear warehouse sale will take place from May 3rd to May 5th in Montreal. Amazing deals to be made, with prices in the range of $5, $10, $15 and $20 only. Taxes are included in price! All sales are final.
---
THE fashion addicts event – do not miss it… DK COMPANY Canada is inviting you to its famous Spring 2018 warehouse sale, May 10th to 12th! Up to 70% off on many men and women fashion clothing brands, in all sizes.
---
Patio furniture warehouse sale and more – don't miss out – from May 3-6 & May 10-13! All taxes are included. Enjoy our best prices of the season + we pay taxes on patio sets, garden furniture, hammocks, armchairs, outdoor loveseats, gazebos, etc.
---
Anaïs Designs mega sale on Friday & Saturday May 4-5, 2018 in Montreal. High quality dresses from $80 to $200. New 2018 collection: prom night, bridesmaids, cocktail events… First come, first served!
---
Last chance, May 5th only! Ladies spring/summer fashion sale: dresses, skirts, blouses all at $10+. Sizes 0-28.
---
Our Spring Sample Sale is happening! Shop one of a kind samples, seconds, and more! Leather wallets and handbags at more than 80% off! Don't miss the opportunity to refresh your wardrobe, shop for mother's day, or stock up on amazing luxury gifts!
---
Artisans and all would like to welcome you shop with the top Canadian Artisans and vendor.
---
Big RUBINO liquidation center sale starting May 3rd, 10 am. Get ready to save up to 70% on your most-wanted brands of shoes and sandals for women, men and kids! Over 35 000 pairs in stock.
---
Brand name liquidation sale at NH Inc.! More than 1.7 million $ to liquidate. Under Armour, Tommy Hilfiger, Jack & Jones, Calvin Klein, Nautica, Nike, Adidas, Levi Strauss, Clarks, Polo Ralph Lauren and many others.
---
Ketto warehouse sale in Quebec City, May 5-6 and May 12-13, 2018. Save 50% to 75% on end of lines, samples, slight defects, inventory surplus. Bags, lunch boxes, pouches, pencil cases, water bottles, wallets, pencils … etc.
---
For a limited time only, take advantage of G-Furn's spring sale! Save up to 60% off on modern, mid-century, Scandinavian furniture and design lightings.
---
Shop at Bon Prix Électroménagers and never pay retail price again! Save up to 50% off on home appliances from all brands: Whirlpool, Samsung, Frigidaire, LG, Bosch, Maytag, Hisense, Amana! Refrigerators, stoves, dishwashers, washers, dryers & more.
---
Would you like to update your home decor or give it a touch of glamour at a fraction of the regular price? We have it all. Take advantage of discounts up to 80% on a wide selection of quality lighting fixture. End of line, floor samples, overstock.
---
Clothing for the whole family with sizes from XS to XXL. Accessories, gift items & kitchenware. Nothing but quality and well-known brands. Besides the highly reduced prices & no taxes to pay, get the 2nd item for free on the whole stock!
---
The Diamond Tea warehouse sale will be held during weekdays until May 11, 2018. Get great deals from 50% to 70% off on an extensive line of quality ladies robes and loungewear directly from the manufacturer!
---
Luxury footwear Spring sample sale from April 23rd to May 6th, 2018! Save up to 75% off on samples and overstock (all sizes available) on Blackstone, Fornarina, David Tyler, Badgley Mischka, Betsey Johnson & more!
---
Do not miss the Premium Retail Group warehouse sale on May 9th to 13th, 2018 in Montreal! Save up to 80% off on Puma clothing and shoes for men, women and children. Hurry!
---
Sign up for SHOPICO.ca's free weekly newsletter to make sure that you don't miss a single deal! You can even take a little trip without hurting your wallet – visit our Getaways page to learn more.
---
Bed sheets bamboo & Egyptian comfort, all sizes $22 only! Freshen up your own bedroom decor with our comforter 7 piece sets $79 twin, double $89, king $99. Bamboo pillows at $22 & and mattress covers pads from $36. Curtain rods $18 and panels $15.
---
TRAVEL DEALS
Better than a hotel! Book a vacation rental and expect more when you travel. Search for vacation rentals in Orlando.
---
Xperiencias Xcaret brings you the best offers. Seize our discounts and enjoy the best activities in Cancun and Riviera Maya!
---
Get 1 night free and save up to 65% at Sandals La Toc Golf Resort & Spa in St. Lucia. Book now!
---
Take advantage of our promotion to offer you an all-inclusive week in Varadero, Cuba from July 25th to August 1st at $999 tax included*!
---
ONTARIO
TOMS is having their First Warehouse Sale in Ottawa from Mai 4th to 6th, 2018. It is going to be the Biggest Shoe Warehouse Sale Ever! Over 25,000 pairs TOMS. Up to 70% OFF on womens, mens, kids, babies. Classics, wedges, slip ons, sandals.
---
Bugatti Menswear Sale is on May 3rd to 12th in Ontario! Get 60-80% off on shirts, sweaters, knitwear, outerwear, pants and shorts. Top brand names including: Bugatti, Bruun & Stengade, Sondergaard, A Fish Named Fred, Pure, Lambretta and more!
---
Jenny Bird Jewelry Sale is on May 11th in Toronto. This sale only happens twice a year Get up to 70% off, pieces range in price from $20 – $80.
---
Do not miss Reia's Sale Event in Toronto on may 10th and 11th. Many prestigious brands on sale : Alexander McQueen, Givenchy, Celine, Balenciaga, Isabel Marant, Maison Margiela, Erdem and more!
---
The Parkhurst Warehouse Sale is back in Ontario! Enjoy 80% off in fall & spring knitwear fashions and hats, gloves, scarves & lots of wraps!