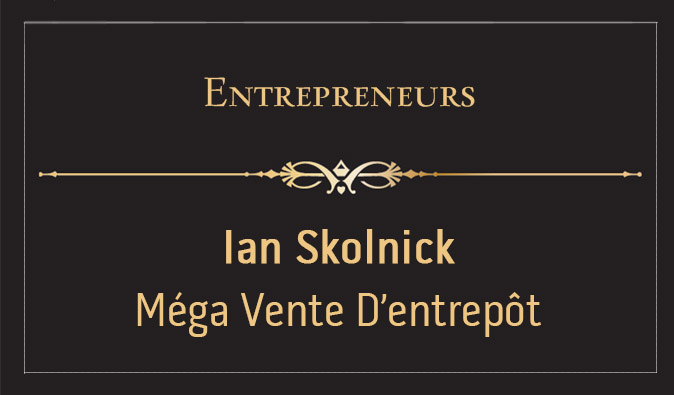 15 Dec

IAN SKOLNICK – CO-FOUNDER OF MÉGA VENTE D'ENTREPÔT

Ian Skolnick is the co-owner and founder of Méga Vente D'Entrepôt, a chain of fashion discount stores in Quebec and Ontario. As many entrepreneurs, Ian didn't study in his field of work, but learned from the "school of the streets". He studied sociology at University, but has been an entrepreneur since he was a teenager.

Back in the day, his first experience as an entrepreneur was in a DJ business. At 16 years old, Ian started to work part-time with Marvin Oppen, a family friend who owns Jano Ltée, a fashion wholesale distributor. While he attended University, Ian went to Ocean City (Maryland, USA) during summer to work as a manager at Sunsations, a chain of beach department stores. He used to work 80 to 100 hours a week, for 4 months, and did so for 5 summers. "Even though I studied sociology, my experience has always been in the fashion retail business", says Ian.

A successful partnership

Marvin's company Jano Ltée has been in business for over 40 years in Lachine. Ian started to learn the business with him. Ian explains: "After I graduated from University, we started a partnership full time and opened Chabanel en Gros Inc. This new location was right near Chabanel; that's where the name comes from. I ran that retail store for many years".

Around 2009, Ian and his partner came up with the idea of Mega Vente D'Entrepôt, a chain of fashion retail stores. Since the Chabanel location was too small, Ian decided to move to St-Leonard in a bigger location.

Ian along with Marvin and his 2 sons Brahm and Jonathan expanded from there, and they now have 5 permanent locations in Quebec (Hudson, Greenfield Park, St-Leonard, Lachine, Kirkland) and 2 locations in Ontario. They also open some other locations temporarily. "You could say it's a family business, since Marvin is like a father to me and his sons have been my best friends for over 35 years. Marvin's son Brahm is in Toronto and runs our locations in Barrie and Whitby, and his other son Jonathan is running Kirkland and Hudson."

To this day, their company is doing both businesses, being a fashion distributor to stores across Canada, and selling directly to the public at their Méga Vente D'Entrepôt locations.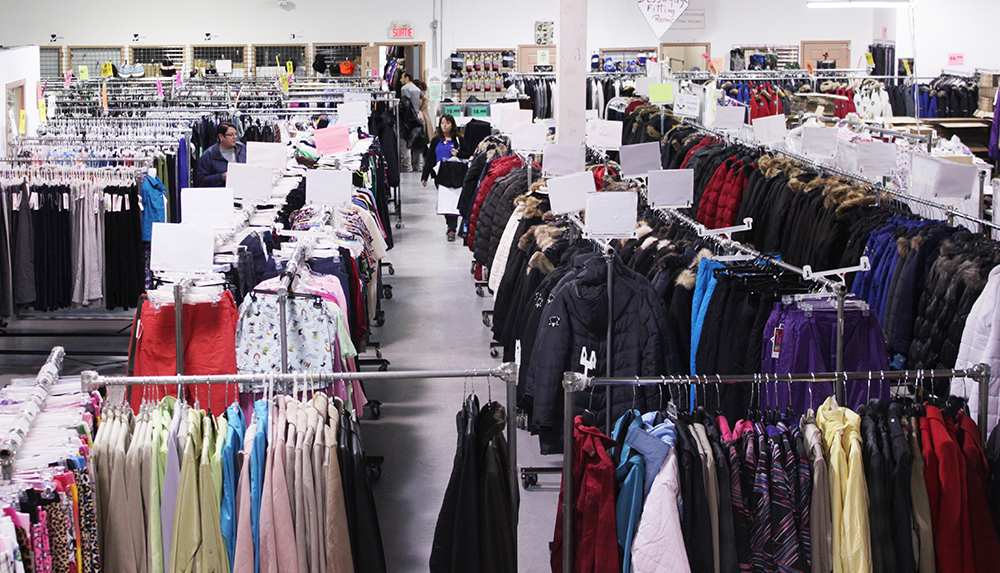 About the business
Marvin is the head buyer for the company, but Ian does work on some deals with him. "I'm mostly the marketing guy, taking care of advertising, administration and running the stores" says Ian.
Marvin and Ian buy new merchandise constantly, and all stores receive new merchandise weekly. "We try to broaden our market by adding new products, any deal we can find out there" explains Ian.
A record season
September to December is their busiest time of the year, with outerwear, jackets and snowsuits for all the family. This year, they went up in style and price point for men's and women's outerwear, by bringing in some higher end brands at Méga Vente D'Entrepôt. It was worthwhile to take the chance, as their clientele responded very well. "People are happy, since we're offering them a 35% to 40% discount on these renowned brands."
"We're having an exceptional year. Even with the warm weather, we did very well with the jackets and snowsuits."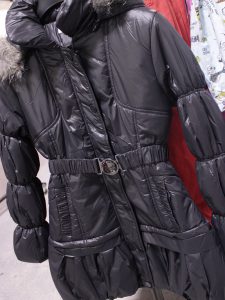 Upcoming projects
In the future, Ian and the Oppen family would love to open many new locations. The challenge is to find good ones! There has been some demand in Quebec City. The challenge would be running it from far, since they don't have family in the area but they are up to the challenge.
Being an entrepreneur
You have to be perseverant. Have faith in yourself and not give up. Almost every entrepreneur Ian has met has had 1 or 2 businesses that have failed. If you are strong and keep trying hard, success is always within your reach.
For more information about Méga Vente D'Entrepôt, you can visit their Facebook page.