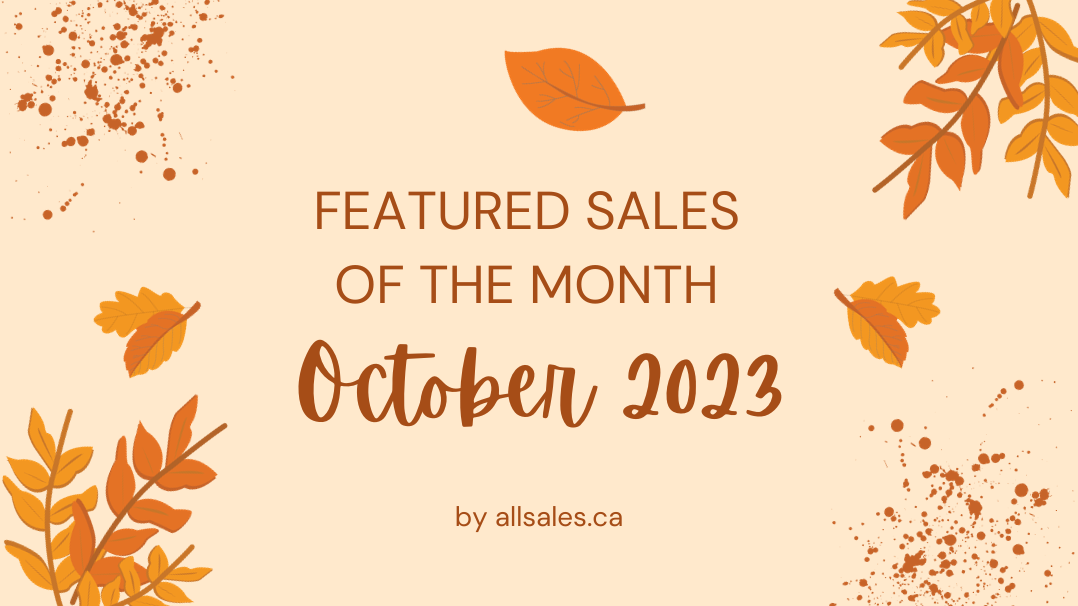 02 Oct

Featured Sales of The Month – October 2023

October will be offering you a tons of sales you will not want to miss: sample sales, warehouse sales, or exceptional online promotions. Get ready to snag great deals that will help you update your wardrobe, your home, and much more. Let's get started!

Until October 7th

Mirage hardwood flooring mega sale at Barwood Pilon. Get 15% off your Mirage floors purchase. Visit one of our showrooms to see our various specials and product lines! 

October 6 & 7

Joe Aventure outdoor Fall 2023 sample sale, October 6-7 in Granby! Get 40-70% off the best outdoor brands. Clothing, shoes and equipment – outdoor, ski, cycling, performance.

October 4th to 8th

Great selection of skirts, dresses, top, pants and jackets. We pay both taxes! 

October 2nd to 6th

The Winter Parka sale is back! Huge selection for Mens, Womens and Kids. Up to 70% Off on THE NORTH FACE, PARAJUMPERS, MACKAGE, SOIA & KYO, NOBIS, SAVE THE DUCK, ARCTIC NORTH, VEGAN JACKETS and more.

October 5th to 9th

Shop Reebok's warehouse sale in Mississauga. Nothing is over $50! Men's, ladies, kids shoes & apparel including backpacks, socks, water bottles, hats & sport bras.

October 18th to 22nd

Premium Retail Group invites you to its Sample Sale in Montreal. Enjoy up to 75% off on Helly Hansen, The North Face, Under Armour, Rossignol, Lacoste, VANS, Spyder, Herschel Supply Co. & more! Men's, women's and kids apparel. 

October 12th to 16th

We look forward to seeing you at Lanctôt's big one-shot warehouse clearance sale, which will be held exceptionally in Ville Saint-Laurent. Swix, Luhta, Joua, Ortlieb, Therm-Ic, Wilson, Leatt, Canadian Hat 1918, Harricana & more

October 11 & 12

Wednesday October 11 from 10 a.m. to 9 p.m. Thursday October 12 from 10 a.m. to 6 p.m. Don't miss your chance to equip yourself for the coming winter. We have everything, boards, bindings and winter clothing. There will also be spring and summer.

Ongoing sale

Come see us now at our new location! Up to 70% off premium brands for men and women. New address: 795 Chabanel West, Montreal. We are waiting for you!

Ongoing sale

Shop for bedding at Mega vente and take advantage of discounts up to 75%. Quilts from $39, 7 pcs comforter sets from $119, 2-3 pcs comforter sets from $49, bamboo & bamboo charcoal pillows at $18, bed sheets bamboo comfort at only $28!

Ongoing sale 

Shop our selection of 100,000 + jigsaw puzzles, games and accessories from the world's top brands piled high on 2 floors! Receive 15% off instore when mentioning this ad! Save 10% on your online purchase by using promo code: PUZZLEDEPOT10 at checkout

Ongoing sale

Big winter sale at Méga vente! Kids snowsuits from well-known brands (12 months to 16 years) starting at $69! Men's and women's coats from $69: Point Zero, Toboggan, Diamond Trail, Tylor Zane Collection, Exploration and more.

Ongoing sale

High-end mattress warehouse sale. 75% discount on all Sealy, Simmons, Kingsdown, Serta, etc. mattresses. Free box spring with each mattress purchased. We pay the taxes! Free delivery Montreal & surroundings.

October 10th to 14th

CoLab, Christopher Kon & Ucon Acrobatics sample sale. Save up to 80% on handbags, wallets and small items. Excellent selection of synthetic and leather wallets and handbags.

For a limited time

Closing sale! More than 200 styles of shoes for men and women. Shop our amazing selection at only $20 and $30!

Ongoing sale

Shop the new Fall/Winter collection for kids at L'Enfantillon, your favorite destination for kids and maternity designer clothes. Save up to 50% off on samples and up to 70% off on clearance.

Ongoing sale

Sample sale of fine lingerie, loungewear, sleepwear and swimsuits from Europe. Samples 34B and 34F and other sizes available at exceptional prices. All must go!