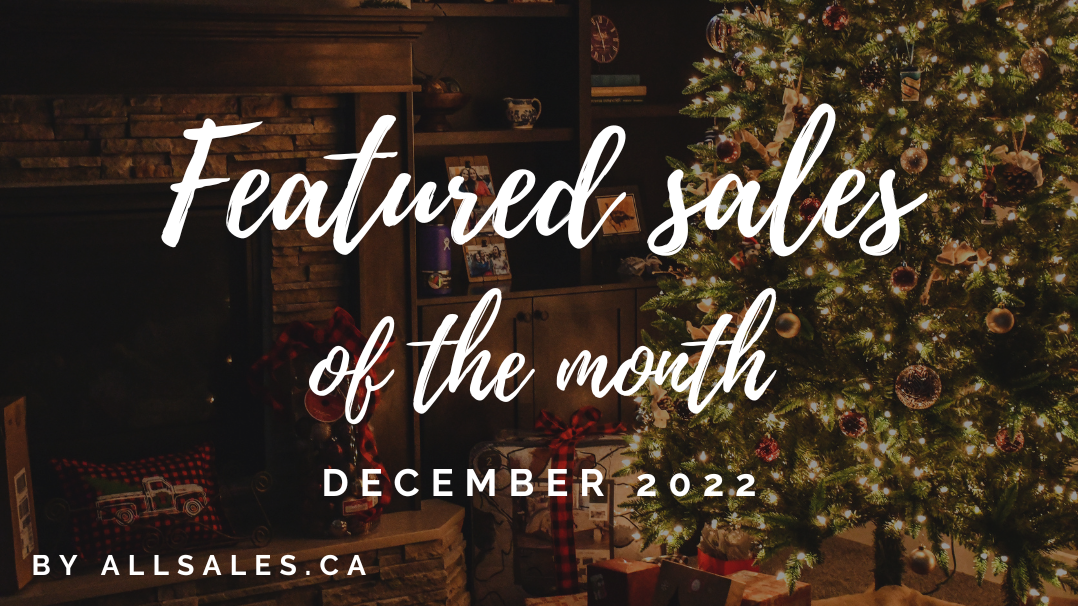 30 Nov

Featured Sales of The Month – December 2022

Holiday season is here! Whether you want to shop for Christmas gifts, find outfits for the upcoming festive evenings, dress warmly for winter, decorate the house or simply to spoil yourself, shop the current sales!

Take advantage of the savings offered by this month's featured sales!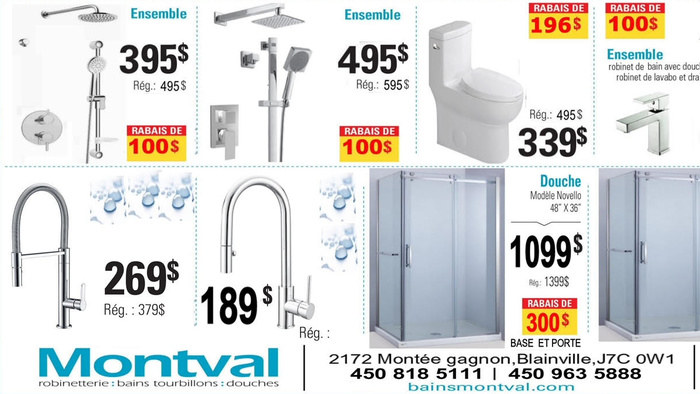 Renovating your bathroom or your kitchen? Shop Montval's clearance sale and save big! Over 1 million inventory to liquidate. Bathroom sets, tubs, showers, bathroom and kitchen faucets, sinks and much more!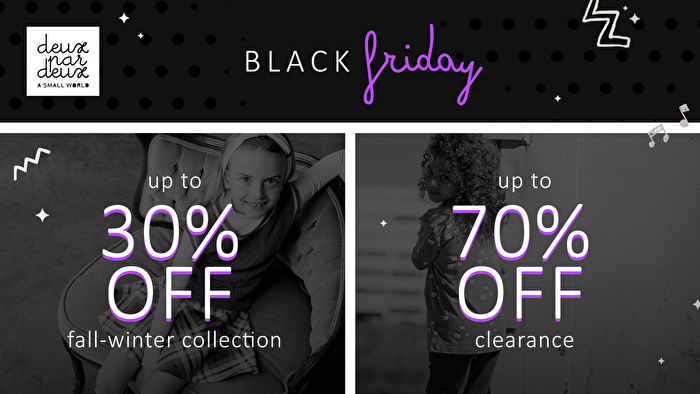 Until December 4th
Black Friday is on at Deux par Deux! Take advantage of our best discounts yet and save on hundreds of items! 
Until December 3rd
TOBOGGAN BLACK FRIDAY SALE – up to 70% off on winter coats for men and women. Including DOOR CRASHERS. Hurry!
Until December 4
Enjoy Black Friday WEEK at Suite 100! From November 25 to December 4th, shop Pajar, Parajumpers, Moose Knuckles, Arctic North, Timberland, Sorel, Kuwalla, Save The Duck, Palladium and Soia & Kyo. 
December 3rd
JS Group warehouse sale is finally back! Designer designs at warehouse prices! Shop high quality dresses: evening, prom, mother of the bride, dresses with minor imperfections and samples. 
Until December 4
Shop Black Friday sale now, in every Mode Choc store and at Modechoc.ca, get discounts up to 50% off on a selection of clothing for men, women and children! 
Until December 4
The GUESS? MARCIANO warehouse sale is back in Toronto, 5 days only. Featuring GUESS?, MARCIANO, Joseph Ribkoff and more! All new inventory at up to 90% off! 
December 1st to 3rd
Come enjoy great deals on Jasmine Rose and Cozy & Curious. Sleepwear and more. Everything at $10, $15, $20 or $30 only. All sales are final. 
December 2nd to 4th
Imported women's clothing exceptional liquidation sale. Save big with incredible prices, up to 80% off well-known fashion brands. Everything must go! 
Until December 4th
Planterra opens its doors to the public on Thursdays, Fridays, Saturdays and Sundays! Christmas decorations for home and office. Save big on all our inventory with discounts up to 60% off! 
December 1st & 2nd
Great sale on Christmas decorations: toys, paper goods, candles, tables decorations, gift wrap, Christmas cards, crackers & more. This is your chance to stock up on Christmas items at 80% off the suggested retail price. 
December 2nd
Shop at Checkpoint family store for a wide variety of clothing & brand names at unbeatable prices! Ready-to-wear, pyjamas, underwear & more for the entire family at only $1-$25! New Winter collection at up to 70% off. Always new arrivals for winter!
 
December 9 to 11
Designer Warehouse Sale. Save up to 80% on authentic handbags, eyewear, shoes and belts from luxury brands such as YSL, FENDI, GIVENCHY, Louboutin, VALENTINO, GUCCI, Chloé, CÉLINE, Dior, miu miu, TOM FORD, PRADA, BALENCIAGA, VERSACE. 
Until December 6
Automatic additionnal 15% Off All Orders! One of the internet's largest sellers of indoor/outdoor area rugs and mirrors, with 180,000+ skus. 
Ongoing sale
Big winter sale at Méga vente! Kids snowsuits from well-known brands (12 months to 16 years) starting at $69! Men's and women's coats from $69: Point Zero, Toboggan, Diamond Trail, Tylor Zane Collection, Exploration and more. 
Ongoing sale
Shop for bedding at Mega vente and take advantage of discounts up to 75%. Quilts from $39, 7 pcs comforter sets from $119, 2-3 pcs comforter sets from $49, bamboo & bamboo charcoal pillows at $18, bed sheets bamboo comfort at only $28! 
Ongoing sale
Shop deals at Columbia! Styles are added regularly. Take advantage of discounts up to 50% off on summer clothing for men and women, light coats, shoes, backpacks and much more! 
December 1st to 30
Tagore Fashion is hosting their annual warehouse sale for winter headwear. Take advantage of wholesale prices and stock up on beanies, balaclavas, neck warmers, scarves, and more. All made in Montreal. 
Until December 21
The Annie 50 fabrics and supplies sale is on! Fabrics from $1 to $7 per meter, thread spools at $1 each, clasps from $0.15 to $1 each, packs of 20 buttons at $1. 
Until December 22
In addition to the 20-70% off on items already on sale: when you buy 2 items at the workshop, the 3rd one is FREE! 
December 8 to 11
Come get all your holiday shopping done at the Montreal Pop Up event! With over 20 local vendors ranging from Cruelty-Free & Vegan Makeup from Laritzy & Estate Cosmetics, Handcrafted ceramics from Lunamezza Studio, Jewlery, clothing… 
Until December 18
A very special gift idea for wine lovers: the electronic wine aerator! Shop CAVAVIN today and get 60% off with the promo code AERA2002. 
December 8 to 10
Amazing discounts on winter coats and accessories! Come shop our clearance sports and outdoors products at up to 70% off on brands such as COLMAR, SWIX, LUHTA, REIMA, LUHTA, NVO, SLIGO, HARRICANA CANADIAN HAT 1918. 
Until December 16
Women's European Brands Warehouse Sale. Discounts 70% & more! Coats – Jackets – Dresses – Shirts – Sweaters – T-shirts – Trousers. Brands available: SANDWICH-NETHERLANDS, MASAI-DENMARK, SEASALT-UNITED KINGDOM.
Until December 18
Once again, Wildly Delicious opens its doors to the retail public until December 18th in Toronto for its Annual Warehouse Sale. Get huge deals on our specialty food products. See you there!
December 2-5 & 9-11
Enjoy savings of up to 80% off on a huge collection of cosmetics & fragrances from brands such as Elizabeth Arden, Stila, Revlon, Orlane, Milani, Pur, Juicy Courture, Armani, Vera Wang, Anna Sui, Versace, Burberry, Gucci, Guess just to name a few! 
Ongoing sale
High-end mattress warehouse sale. 75% discount on all Sealy, Simmons, Kingsdown, Serta, etc. mattresses. Free box spring with each mattress purchased. We pay the taxes! Free delivery Montreal & surroundings. 
Ongoing sale
Shop our selection of 100,000 + jigsaw puzzles, games and accessories from the world's top brands piled high on 2 floors! Receive 15% off instore when mentioning this ad! Save 10% on your online purchase by using promo code: PUZZLEDEPOT10 at checkout 
Until December 8
Sample sale of fine lingerie, loungewear, sleepwear and swimsuits from Europe. Samples 34B and 34F and other sizes available at exceptional prices. All must go! 
December 7 to 10
Warehouse sale. DIAMANCEL, a Canadian brand of real diamond files, entirely made in Quebec for 30 years. Save up to 60 % on our Diamancel nail files, foot rasps and buffers, herbal footcare creams and animal claws files. 
Ongoing sale
Up to 60% off all coats! More than 15 brands & 100 styles: Soia & Kyo, Pajar, Arctic North, Ookpik & more. The biggest selection of winter coats size XXS to 4XL in Montreal! Quality coats for women & men up to 60% off for temperatures of -35C. 
Ongoing sale
BonPrix Electroménagers specializes in the liquidation of major appliance brands in Montreal, Laval and Longueuil. Never pay the retail price again. Up to 50% off on all our appliances. 
Ongoing sale
Shop our collections of flooring & vanities and save up to 70% by buying from the manufacturer! Golden Elite offers you unbeatable prices and we will we will match any price for products similar to ours. 
New deals added everyday at allsales.ca!
Subscribe to our newsletter to never miss a new sale!