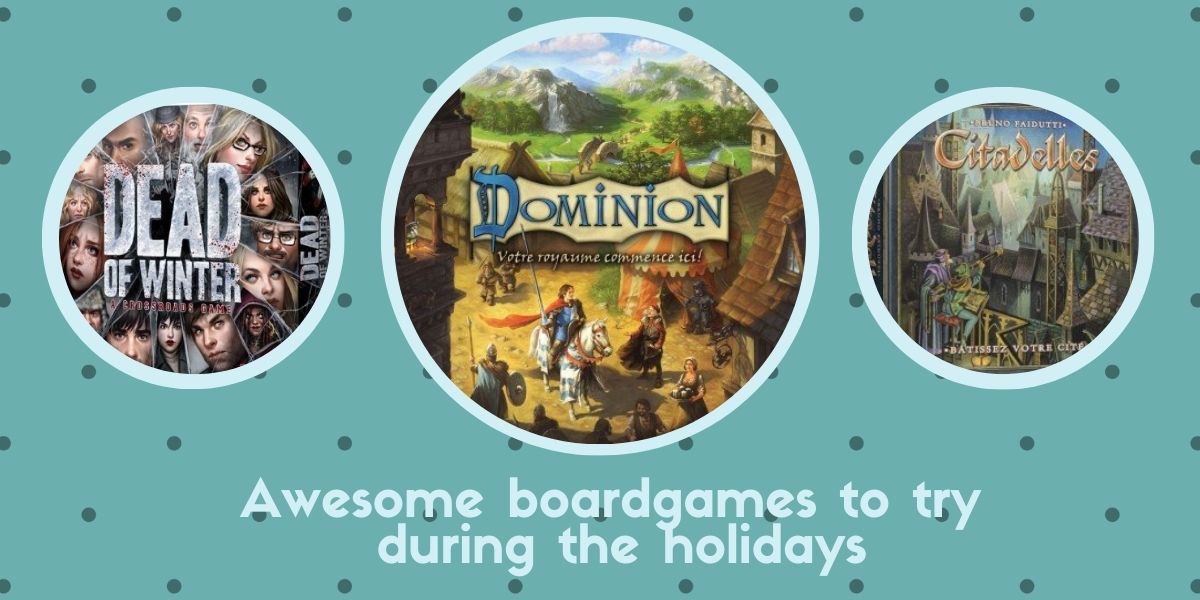 21 Dec

Awesome boardgames to try during the holidays

Christmas will be quite different this year. We've put together a list of our favorite board games to keep you busy this holiday season. Because no party doesn't mean we can't have fun!
7 wonders (2 to 7 players)
You are the leader of one of the 7 great cities of the Ancient World. Gather resources, develop commercial routes, and affirm your military supremacy. Build your city and erect an architectural wonder which will transcend future times. In essence, 7 Wonders is a card development game. Some cards have immediate effects, while others provide bonuses or upgrades later in the game. Some cards provide discounts on future purchases. Some provide military strength to overpower your neighbors and others give nothing but victory points.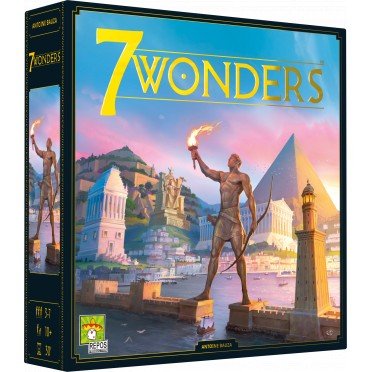 Aeon's End (1 to 4 players)
Aeon's End is a cooperative game that explores the deckbuilding genre with a number of innovative mechanisms, including a variable turn order system that simulates the chaos of an attack, and deck management rules that require careful planning with every discarded card. Players will struggle to defend Gravehold from The Nameless and their hordes using unique abilities, powerful spells, and, most importantly of all, their collective wits.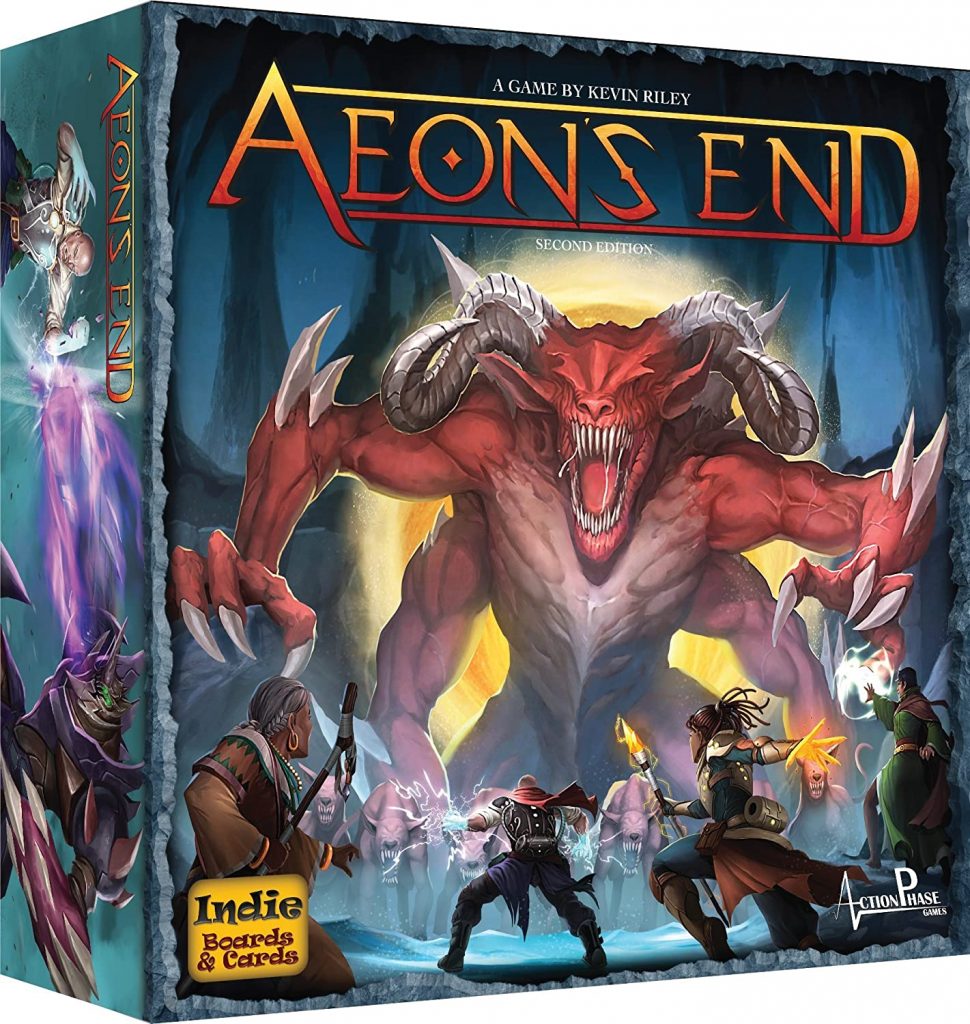 Citadelles (2 to 7 players)
In Citadelles, players take on new roles each round to represent characters they hire in order to help them acquire gold and erect buildings. The game ends at the close of a round in which a player erects his/her eighth building. Players then tally their points, and the player with the highest score wins.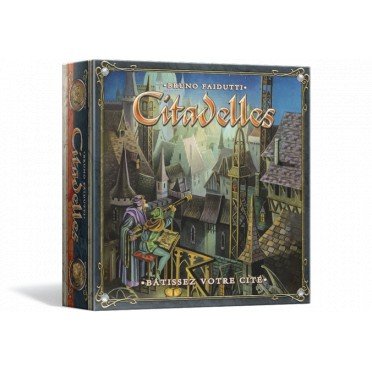 Codenames (2 to 8 players)
Codenames is an easy party game to solve puzzles. The game is divided into red and blue, each side has a team leader, the team leader to lead their team to the final victory. At the beginning of the game, there will be 25 cards on the table with different words. Each card has a corresponding position, representing different colors. Only the team leader can see the color of the card. The team leader should prompt according to the words, let his team members find out the cards of their corresponding colors, and find out all the cards of their own colors to win.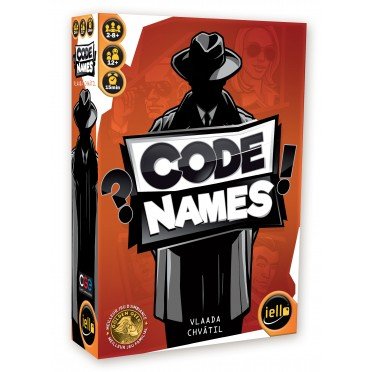 Dead of winter (2 to 5 players)
Dead of Winter is a meta-cooperative psychological survival game. This means players are working together toward one common victory condition, but for each individual player to achieve victory, they must also complete their personal secret objective, which could relate to a psychological tick that's fairly harmless to most others in the colony, a dangerous obsession that could put the main objective at risk, a desire for sabotage of the main mission, or (worst of all) vengeance against the colony! Games could end with all players winning, some winning and some losing, or all players losing. Work toward the group's goal, but don't get walked all over by a loudmouth who's looking out only for their own interests!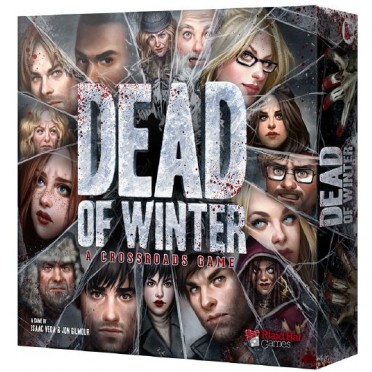 Dominion (2 to 4 players)
In Dominion, each player starts with an identical, very small deck of cards. In the center of the table is a selection of other cards the players can "buy" as they can afford them. Through their selection of cards to buy, and how they play their hands as they draw them, the players construct their deck on the fly, striving for the most efficient path to the precious victory points by game end.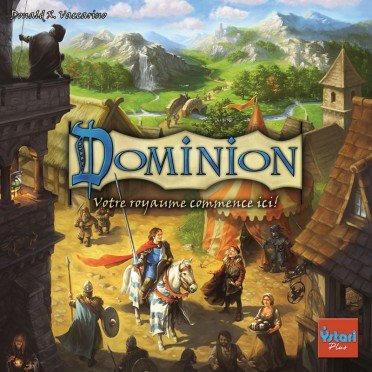 Kingdomino (2 to 4 players)
In Kingdomino, you are a lord seeking new lands in which to expand your kingdom. You must explore all the lands, including wheat fields, lakes, and mountains, in order to spot the best plots, while competing with other lords to acquire them first. The game uses tiles with two sections, similar to Dominoes. Each turn, each player will select a new domino to connect to their existing kingdom, making sure at least one of its sides connects to a matching terrain type already in play. The order of who picks first depends on which tile was previously chosen, with better tiles forcing players to pick later in the next round. The game ends when each player has completed a 5×5 grid (or failed to do so), and points are counted based on the number of connecting tiles and valuable crown symbols.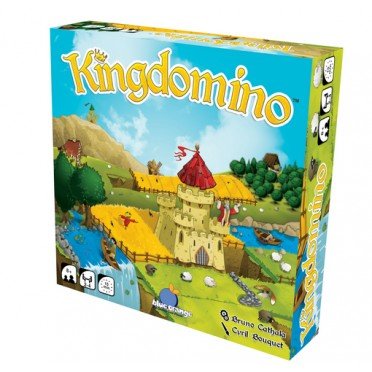 Kingdom Builder (2 to 4 players)
In Kingdom Builder, the players create their own kingdoms by skillfully building their settlements, aiming to earn the most gold at the end of the game. Nine different kinds of terrain are on the variable game board, including locations and castles. During his turn, a player plays his terrain card and builds three settlements on three hexes of this kind. If possible, a new settlement must be built next to one of that player's existing settlements. When building next to a location, the player may seize an extra action tile that he may use from his next turn on. These extra actions allow extraordinary actions such as moving your settlements.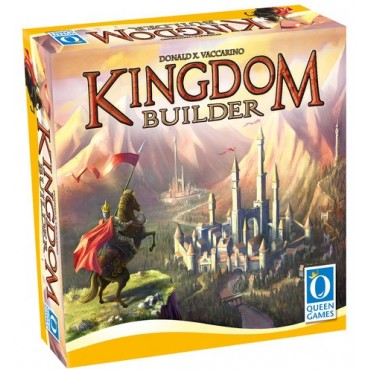 Ticket to Ride : Europe (2 to 5 players)
Ticket to Ride: Europe takes you on a new train adventure across Europe. From Edinburgh to Constantinople and from Lisbon to Moscow, you'll visit great cities of turn-of-the-century Europe. Like the original Ticket to Ride, the game remains elegantly simple, can be learned in 5 minutes, and appeals to both families and experienced gamers. Ticket to Ride: Europe is a complete, new game and does not require the original version. More than just a new map, Ticket to Ride: Europe features brand new gameplay elements. Tunnels may require you to pay extra cards to build on them, Ferries require locomotive cards in order to claim them, and Stations allow you to sacrifice a few points in order to use an opponent's route to connect yours. The game also includes larger format cards and Train Station game pieces.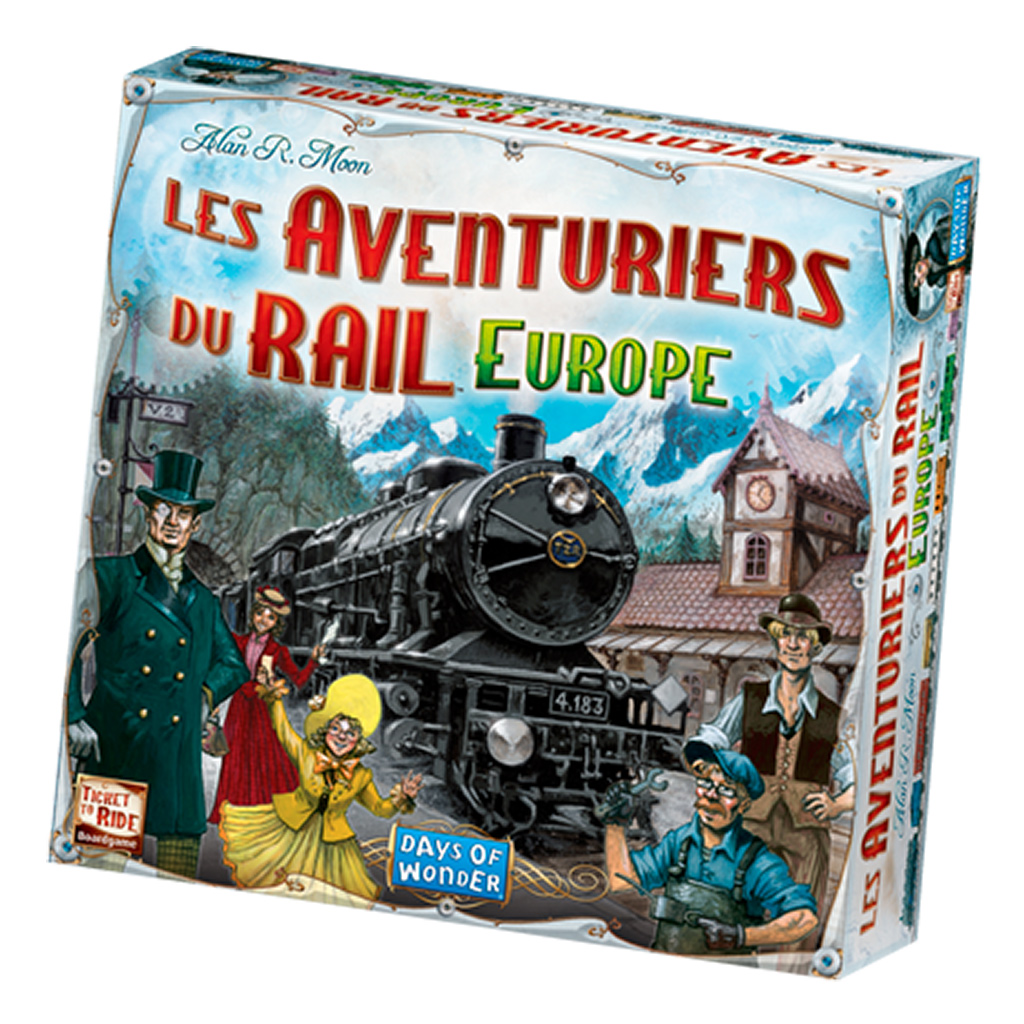 The Quacks of Quedlinburg (2 to 4 players)
In The Quacks of Quedlinburg, players are charlatans, or quack doctors, each making their own secret brew by adding ingredients one at a time. Take care with what you add, though, for a pinch too much of this or that will spoil the whole mixture! Each player has their own bag of ingredient chips. During each round, they simultaneously draw chips and add them to their pot. The higher the face value of the drawn chip, the further it is placed in the swirling pattern. Push your luck as far as you can, but if you add too many cherry bombs, your pot explodes!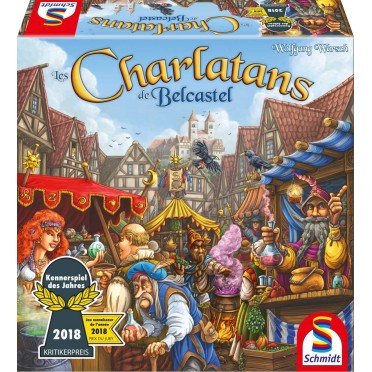 Mysterium (2 to 7 players)
In the 1920s, Mr. MacDowell, a gifted astrologer, immediately detected a supernatural being upon entering his new house in Scotland. He gathered eminent mediums of his time for an extraordinary séance, and they have seven hours to make contact with the ghost and investigate any clues that it can provide to unlock an old mystery. Unable to talk, the amnesiac ghost communicates with the mediums through visions, which are represented in the game by illustrated cards. The mediums must decipher the images to help the ghost remember how he was murdered: Who did the crime? Where did it take place? Which weapon caused the death? The more the mediums cooperate and guess well, the easier it is to catch the right culprit.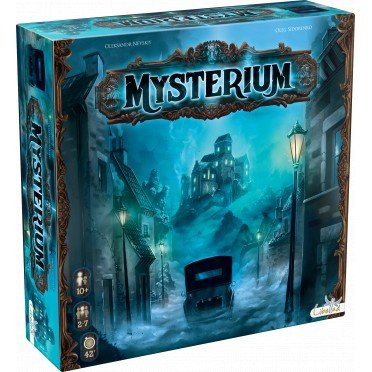 Pandemic (2 to 4 players)
In Pandemic, several virulent diseases have broken out simultaneously all over the world! The players are disease-fighting specialists whose mission is to treat disease hotspots while researching cures for each of four plagues before they get out of hand. The game board depicts several major population centers on Earth. On each turn, a player can use up to four actions to travel between cities, treat infected populaces, discover a cure, or build a research station.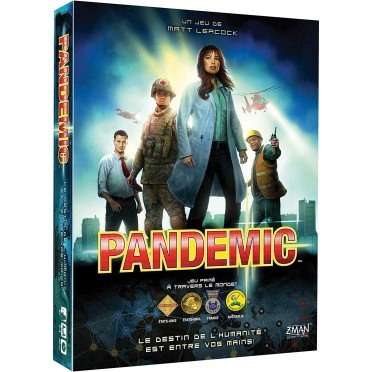 Splendor (2 to 4 players)
Splendor is a game of chip-collecting and card development. Players are merchants of the Renaissance trying to buy gem mines, means of transportation, shops—all in order to acquire the most prestige points. If you're wealthy enough, you might even receive a visit from a noble at some point, which of course will further increase your prestige. All of the cards you buy increase your wealth as they give you a permanent gem bonus for later buys; some of the cards also give you prestige points. In order to win the game, you must reach 15 prestige points before your opponents do.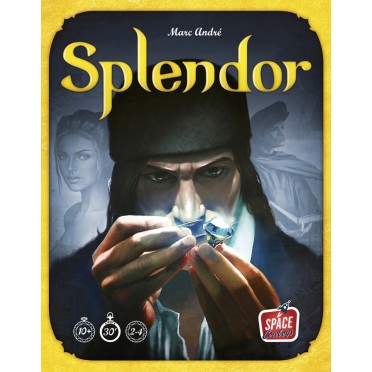 Takenoko (2 to 4 players)
A long time ago at the Japanese Imperial court, the Chinese Emperor offered a giant panda bear as a symbol of peace to the Japanese Emperor. Since then, the Japanese Emperor has entrusted his court members (the players) with the difficult task of caring for the animal by tending to his bamboo garden. In Takenoko, the players will cultivate land plots, irrigate them, and grow one of the three species of bamboo (Green, Yellow, and Pink) with the help of the Imperial gardener to maintain this bamboo garden. They will have to bear with the immoderate hunger of this sacred animal for the juicy and tender bamboo. The player who manages his land plots best, growing the most bamboo while feeding the delicate appetite of the panda, will win the game.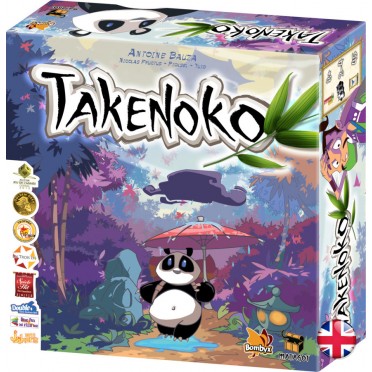 Telestrations (4 to 8 players)
Each player begins by sketching a TELESTRATIONS word dictated by the roll of a die. The old fashioned sand timer may limit the amount of time they get to execute their sketch, but it certainly doesn't limit creativity! Time's up! All players, all at the same time, pass their sketch to the next player, who must guess what's been drawn. Players then simultaneously pass their guess — which hopefully matches the original word (or does it??) — to the next player who must try to draw the word they see — and so on.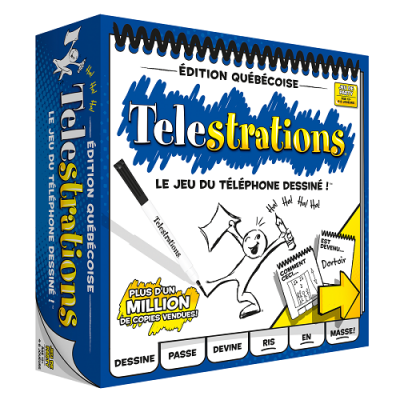 The Mind (2 to 4 players)
The Mind is more than just a game. It's an experiment, a journey, a team experience in which you can't exchange information, yet will become one to defeat all the levels of the game. In more detail, the deck contains cards numbered 1-100, and during the game you try to complete 12, 10, or 8 levels of play with 2, 3, or 4 players. In a level, each player receives a hand of cards equal to the number of the level: one card in level 1, two cards in level 2, etc. Collectively you must play these cards into the center of the table on a single discard pile in ascending order but you cannot communicate with one another in any way as to which cards you hold. You simply stare into one another's eyes, and when you feel the time is right, you play your lowest card. If no one holds a card lower than what you played, great, the game continues! If someone did, all players discard face up all cards lower than what you played, and you lose one life.