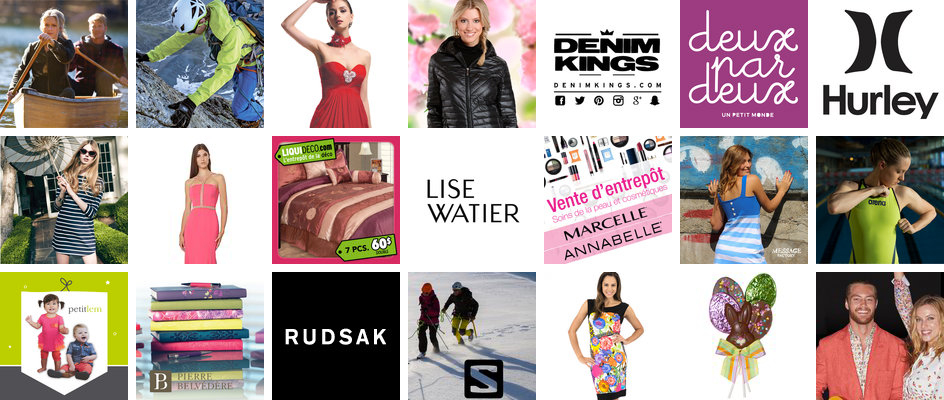 03 Apr

April warehouse sales not to be missed!

Spring continues to settle in slowly and sales are starting to show up. Discover the warehouse and sample sales for the month of April!

For more information about a sale, you can click on the picture or on the name of the sale.

Chocolate warehouse sale! 50% to 70% off
Until April 10
Nothing says Easter better than a chocolate Easter bunny and chocolate eggs. Come visit Splendid Chocolates and buy quality chocolate directly from the factory. Beautifully wrapped gift baskets, bunnies, lambs, chickens, duckies. All at great prices.

Cocktail and evening gowns at $30+
Until April 30
Looking for a special dress that highlights your silhouette! Evening dresses, cocktail dresses, prom dresses, for mother of the bride, for bridesmaids starting at just $30. Find your dream dress at Anaïs Design and still stay within your budget.

New arrivals Soïa&Kyo, Rudsak, Mackage..
April 1 to 30
Ger ready for Spring 2015 in style at Denim Kings! Denim, tops, jackets, sweatpants, joggers and more for men and ladies. Best brands in store now: Soïa & Kyo, Rudsak, Mackage, Rock Revival, Converse, True Religion, Moose Knuckes, Lucky 7 …

Ravensburger mega liquidation sale
April 2 to 18
From April 2 to 18, save up to 85% at the Pierre Belvédère & Essence du Papier warehouse sale: Ravensburger toys & puzzles, Pierre Belvédère and Semikolon stationery, office organization by Semikolon, gift ideas, napkins, place mats, toys…

Salomon Sample sale from 50% to 70% off
April 8
Take advantage of the Salomon sample sale! Save on clothing and equipment for men and woman. 50% to 70% off the Spring and Summer 2015 as well as Fall and Winter 2015-16 collections, medium size. Do not miss this sale! April 8 only.

Swim/Bike/Ski/Sample Sale 60-80% off
April 8 to 10
From April 8-10 come find beach, bike and ski apparel at unbeatable prices! T-shirts, denim, shorts, dresses, board shorts, swimwear, bike apparel, helmets, footwear, belts, bags, hats & more. Don't miss it! Nikita, Rossignol, Arena, Lira, etc.

BB Dakota, Kensie, Jack sample sale
APril 8 to 11
Industry & Zoe is having their Spring sample sale from April 8-11! Don't miss out on an amazing selection of Spring 15 samples from brands like KENSIE, BB DAKOTA and JACK.

Rudsak sample sale up to 70% off
April 8 to 12
Five days only – April 8 to 12! Save up to 70% off on Rudsak collection samples and surplus: clothes, coats, leather coats, shoes, boots and other accessories for men and women.

Outdoor Equipment & Clothing Sample Sale
April 9 to 10
Just in time for spring and summer activities, you're invited to our outdoor equipment and clothing sample sale, April 9-10! Save 50% and more on Summer&Fall 2014-2015 collections: Royal Robbins, Swix, Millet, ibex, Thermarest, Asolo, Platypus, etc.

Home decor sale – Save up to 80%
April 10 to 11
Manufacturer's sale on April 10 & 11! Bed covers, bed linens, window coverings, decorative cushions, carpets and many more home decorating items. Great savings up to 80% off retail prices. Do not miss this liquidation sale – we pay the taxes!

Marcelle Annabelle Warehouse Sale
April 10 to 12 & April 17 to 19
The Spring 2015 Marcelle and Annabelle warehouse sale will take place April 10 to 12 and 17 to 19! It's your opportunity to stock up on skin care products and cosmetics from these 2 renowned brands. Lipstick, eyeshadow, mascara, skin care & more

Message Factory at the Braderie -70%!
April 10 to 15
Message Factory, a joyful organic & recycled clothing line, designed and made in Montreal, invites you to the The Big Fashion Sale (also known as the Braderie) in Montreal on April 16-19. Save up to 70% on all our styles!

Deux par Deux kids' warehouse sale
April 11
Mark your calendars, Deux par Deux is having a warehouse sale on April 11th! Bring your friends to shop from our actual spring/summer collection, and items from previous seasons at $5-$10-$15.

Prom & evening gowns warehouse sale
April 11
Are you looking for a perfect evening, prom or mother of the bride dress? Bridal dresses at wholesale prices? Don't miss out on Groupe JS International warehouse sale on April 11. Enjoy the great selection of styles and sizes at incredible prices!

Nuage Ladies Outerwear up to -70%
April 11 to 12
On April 11-12, find your new spring outerwear at incredible prices. Save up to 70% off at Nuage Spring warehouse sale, by Capital Garment! We are waiting for you!

Lise Watier Warehouse Sale 4 days left!
April 11 to 12 & April 18 to 19
4 days only! Don't miss the Lise Watier warehouse sale on April 11-12 and 18-19. Great choice at great prices! Lise Watier products to help you feel more beautiful, more confident and feminine : makeup, fragrance and skincare.

Sample sale men & women 50% to 75% off
April 16 to 18
Sample sale – 3 days only – April 16 to April 18. Save 50% to 75% on apparel and accessories for men and women as well as men's footwear! John Varvatos, Robert Graham, Ike Behar, BRAX, Ping and Nautica.

Petit Lem Sample Sale
April 16 to 18
Don't miss Petit Lem sample sale, April 16 to 18! Sleepwear for kids size 0 to 14 yrs, sportswear for boys and girls size 3 m to 7 yrs – prices starting at $5! Petit Lem where the comfort of your children is our priority.

Sample sale from Scapa by Lauren Perre
April 20 to 24
April 20th to 24th, save 50% off on high-end clothing for women from brand Scapa by Lauren Perre sweaters, jackets, pants, dresses. A sale not to be missed!

Hurley clothing & acc. sample sale
April 23 to 25
AgenC sample sale from April 23rd to 25th. Find great deals on Hurley men's and women's apparel, outerwear, pants, jackets, caps, backpacks, accessories and more!

Sample Sale Outdoor Clothing and Shoes
April 24 to 25
On April 24th and 25th, Les Agences Stéphane Morin invites you to their sportswear and accessories sample sale for men and women. Outdoor shoes & boots, sports equipment, backpacks & more. Light Motion, Innate, Aqua Bound, Gregory, Prana…
With our advice and a bit of ingenuity, you will certainly find several new items for the summer months. Click here to see all the warehouse and sample sales, or else go to allsales.ca or on our mobile app!
Great savings!