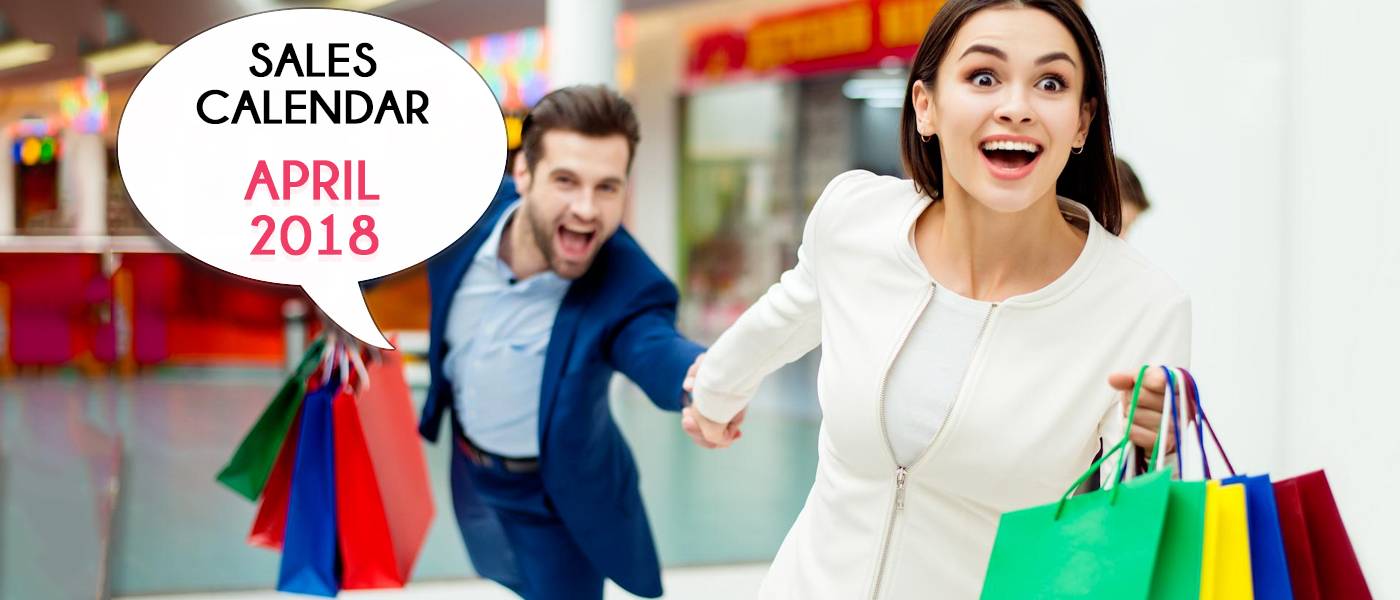 03 Apr

April 2018 sales not to be missed!

Spring continues to settle in slowly and sales are starting to show up. Discover the warehouse and sample sales for the month of April!
FEATURED SALES
Our first summer sale is happening from April 19th to 21st. Take advantage of our incredible prices to dress your little ones for the sunny season. You'll find several collections including Coccoli, Minymo, Me Too, Creamie, Claesen's and Celavi.
---
Come and enjoy the Easter sale at Meubles & Davantage! We pay the taxes on GE appliances, taxes are included on furniture & mattresses and all clothing is at 3 for the price of 2!
---
Hatley is opening its warehouse for a huge sale April 19 to 21. Tons of stock from both Hatley and Little Blue House brands have to go, such as rainwear & swimwear for kids; family sleepwear, daywear for babies, kids & women plus so much more!
---
Brand name liquidation sale at NH Inc.! More than 1.7 million $ to liquidate. Under Armour, Tommy Hilfiger, Jack & Jones, Calvin Klein, Nautica, Nike, Adidas, Levi Strauss, Clarks, Polo Ralph Lauren and many others.
---
Petit Lem sample sale event April 13th to 15th, 2018. Save up to 70% off! Baby outfits & sleepers from $5, kids sportswear from $10, pajamas from $5.
---
Save up to 50% off bath & sink faucets, save $500 to $920 on a complete bathroom set including: toilet, bath, bath & shower faucet, sink and bath drain!* More than 1 million of inventory to liquidate at Montval!
---
New arrivals at NH Inc.! Brand name pants for men at 65-75% off! Perry Ellis, Brax, 7 for all mankind, Calvin Klein Jeans, Nautica, Polo Ralph Lauren, Tommy Hilfiger, Dockers, Izod, Canali, Paige and many others.
---
Manufacturer's sale, 2 days only on April 6th and 7th, with discounts up to 80% off! Bed in a bag starting at $35, comforter sets from $22, bed sheets from $11, standard pillows 2 for $12, curtains & assorted cushions from $5. We pay the taxes!
A LOT MORE SALES
Stay tuned, on April 16th Ernest will reveal a sale not to be missed that will take place at the end of April. Clothes, suits, coats, shoes and more await you. Hoping to see you there!
---
Rudsak's sample sale will take place in Montreal from April 4th to 8th, 2018. Women's and men's outerwear, leather jackets, bags & more.
---
Hurry ! Do not miss the Tres Chic mega sale from March 26th to April 9th, 2018! Save -50% on the designer dresses and gowns at incredible prices.
---
Bed sheets bamboo & Egyptian comfort, all sizes $22 only! Freshen up your own bedroom decor with our comforter 7 piece sets $79 twin, double $89, king $99. Bamboo pillows at $22 & and mattress covers pads from $36. Curtain rods $18 and panels $15.
---
Don't miss out LE CHÂTEAU's closing store sale in Toronto. Visit Orfus Road Outlet and save 60% to 90%* off on entire store. Stock up on dresses, shoes, boots, and more at incredible prices.
---
Last chance – closing sale until April 8th only! 2 for 1 on men & women's coats from Toboggan, Pajar, Arctic and many other brands. Everything must be sold!
---
The Spring 2018 women's fashion sale you don't want to miss! From March 29th to April 7th: Dalia, Renuar and Katherine Barclay. All $10-$20 or more: sweaters, dresses, pants, skirts & jackets.
---
You're invited to AJG Apparel Inc.'s warehouse sale! Only from April 5th to 8th, 2018 you'll find women's outerwear up to 70% off, samples and previous collections.
---
On April 7th & 8th, 2018, don't miss Message Factory's big overstock & sample sale! Come take advantage of our best deals of the season. Save up to 60% off!
---
7 days only! Don't miss the Lise Watier warehouse sale in Montreal, April 6-7-8, April 14-15 & April 21-22, 2018. Great choice at great prices! Makeup, fragrance and skincare.
---
Deux par Deux's kids clothing warehouse sale is back, on Saturday April 14th, 2018 with savings of 40% to 80%! $5, $10 & $15 past season racks are available.
---
On April 14th & 15th, find your new spring outerwear at an incredible price. Save up to 70% off at Capital Garment sample sale. We are waiting for you! Nygard, Etage, Nuage, Nikki Jones, Arctic Expedition and more.
---
Designer footwear & handbags sample sale, only from April 5th to 7th! A sale not to be missed!
---
Warehouse sale of professional products for hair care and beauty, 3 days only, April 13-14-15, 2018. Save up to 50% off on hair care products and accessories for men and women: hair gels and sprays, dryers, flat irons, make-up & more.
---
The Marcelle and Annabelle warehouse sale is back, April 6-7-8 & April 13-14-15! It's your opportunity to stock up on skin care products and cosmetics from these renowned brands. You will also find products from the new men's line CW Beggs and Sons.
---
From April 11th to 24th, get up to 50% off at restaurants, getaways, the spa, and your family activities! To save even more, use FEVER18 on your purchases of $100 or more and save an extra $5! But hurry – Spring Fever is on for only a limited time!
---
Don't miss the Wonderbra, Hanes, Bali, MaidenForm, Playtex, DIM & Champion warehouse sale on April 13th-15th and also April 20th-22nd !
---
Industry & Zoe is having a sample sale from April 12th to 14th in Montreal! Don't miss out on an amazing selection of samples from Minimum, BB Dakota, Jack, Cupcakes & Cashmere, Alo Yoga and other brands.
---
On April 12th-13th, 2018, Les Agences Stéphane Morin invites you to their sportswear and accessories sample sale for men and women. Shorts, capris, long and short sleeve shirts, bikini top and bottoms & more. Alpine Aire, Prana..
---
Anaïs Designs mega sale on Friday & Saturday, April 6th & 7th, 2018 in Montreal. High quality dresses from $80 to $200. New 2018 collection: prom night, bridesmaids, cocktail events… First come, first served!
---
J. Michaels store at Southcentre is relocating within the mall come mid April. We're having a moving sale March15th – April 14th, save up to 80% off fall styles !
---
Joe Aventure's warehouse & sample sale is on April 5th to 7th, 2018. Save 40%-80% off clothing, backpacks, shoes, outdoor equipment and more! Mammut, Marmot, Merrell, Saucony, Sugoi, Osprey, The North Face, Mountain Hard Wear, Fjall Raven, etc.
---
You're invited to our outdoor equipment and clothing sample sale, April 12th and 13th in Laval! Save 50% and more on past collections from renowned brands: Royal Robbins, Swix, MSR, SealLine, Platypus, Packtowl, Therma-a-rest, Ecase, etc.
---
SKOOP spring sale is on April 5th & 6th, 2018 in Montreal! Clothing for men & women from Calvin Klein, Levi's, Cheap Monday, Glamourous, L*Space, MinkPink and many other trendy brands.
---
Sample Sale starting April 3rd from Europe: lingerie, swimsuit, body wraps and PJs. Samples 34B and 34F are at excepional prices as well as many more sizes at a fabulous prices. All must go!
---
Spring is in the air and William Ashley's Spring Warehouse Sale is here! From April 6th to 15th get ready to experience every bargain hunter's dream sale!! Lighting, Garden Decor, Linens, Bed and Bath, Cookware, Books, Figurines and more !
---
Shop the fancy wear for First Communion, Confirmation, Christening and weddings at Goldtex! Choose from our large selection of dresses, suits, ties, shirts, and dress shoes. Top quality brands, all at great prices! Sizes: 0 to 16 yrs.
---
Groupe JS International warehouse sale, on Saturday April 7th. Designer designs at warehouse prices! High quality clothing ranging from prom dress, to casual wear or evening dresses, bridesmaid, mother of the bride. Large selection & sizes available.
---
From April 3rd to 27th, save 80-90% off retail price on Spring/summer 2018 European clothing collections for women! Everything is at $15, $20, $30 or $40!
---
Clothing for the whole family with sizes from XS to XXL. Accessories, gift items & kitchenware. Highly reduced prices & no taxes. Nothing but quality and well-known brands. Continuous new arrivals.
---
Shop the largest puzzle warehouse in Canada @ JigsawJungle.com and SAVE 10-75% OFF suggested retail prices on adults and kids puzzles and accessories. Ravensburger, White Mountain, Heye, Educa, Trefl, Cobble Hill, Jumbo & more.
---
The Association des familles de Varennes (AFV) presents its spring flea market on April 7th, 2018. This is a great opportunity to buy baby accessories, clothing, toys and much more for the little ones, 0-14 years, at low prices!
---