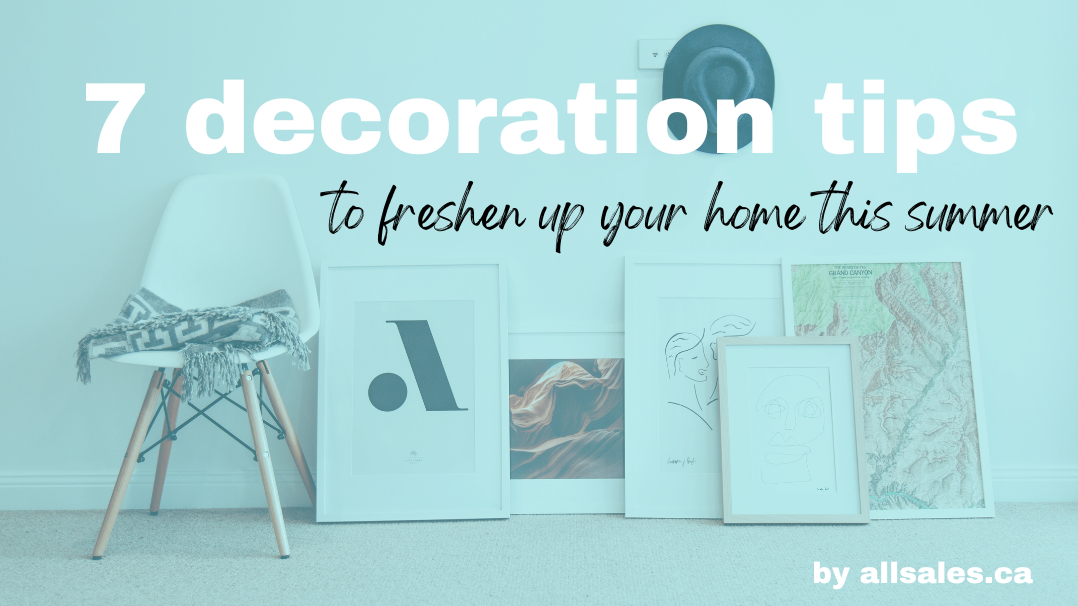 26 Jun

7 Decoration Tips to Freshen Up Your Home This Summer

Summer is the perfect season to bring a fresh and summery ambiance to your interior. Whether you want to create a soothing relaxation space or give your home a vibrant summer atmosphere, these interior decoration tips will help transform your house into a haven of freshness. 
1. Opt for vibrant colors
Nothing says "summer" better than bright and vibrant colors. Replace the neutral tones in your interior with colorful cushions, curtains, or accessories. Shades like sunny yellow, ocean blue, or coral will add a summery touch and bring any room to life.
Incorporate summer patterns into your interior decoration. Floral patterns, nautical stripes, or tropical motifs instantly bring a summer vibe. Use them on cushions, rugs, or even wallpapers to create a strong visual impact and evoke vacation vibes.
3. Embrace natural materials
Natural materials are an excellent choice for summer as they bring a sense of freshness and lightness to your interior. Opt for rattan furniture, wicker baskets, or linen accessories for a relaxed summer ambiance. These materials also add interesting textures to your decor.
Take advantage of the beauty of summer by incorporating elements of nature into your interior decor. Indoor plants are a great way to add freshness and life to any room. Choose lush tropical plants or aromatic herbs to create a natural corner in your home.
5. Use lightweight fabrics
For a comfortable summer, replace heavy fabrics with lightweight and airy textiles. Choose lightweight linen curtains that allow the summer breeze to flow through, cotton or silk blankets for cool evenings, and linen tablecloths for an elegant summer table. Lightweight fabrics add a touch of airiness to your interior decor.
6. Create relaxation corners
Summer is the ideal season to relax and enjoy the outdoors. Create relaxation corners indoors, such as a cozy reading nook with plush cushions and a shelf filled with summer books. You can also set up a small oasis by installing an indoor hammock or creating a Zen space with scented candles and soothing plants.
Lighting can have a significant impact on the overall ambiance of a room. For summer, opt for soft and subdued lighting to create a warm and soothing atmosphere. Use bedside lamps with natural material lampshades for a softer light. You can also hang string lights on your terrace or in your garden to extend the summer ambiance outdoors.
With these 7 interior decoration tips, you can transform your home into a true summer retreat. Whether you choose to add pops of vibrant colors, summer patterns, or natural materials, the key is to create a space that breathes freshness and allows you to fully embrace the summer season. So, let summer into your interior and savor the joy it brings to your home.