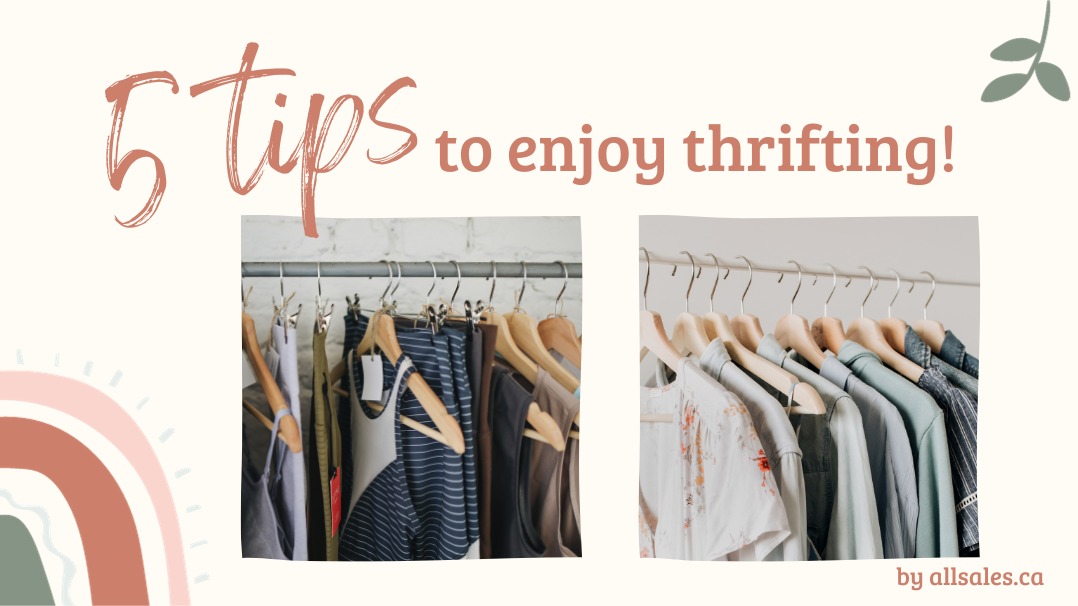 06 Nov

5 Tips to Enjoy Thrifting

Thrift stores have become prime destinations for fashion enthusiasts in search of unique, sustainable, and affordable pieces. In addition to contributing to waste reduction and environmental impact, shopping at thrift stores can be an exciting and budget-friendly experience. To help you make the best finds, here are 5 tips to enjoy thrift store shopping.

One of the best things about thrift stores is that you never know what you're going to find there. Keep an open mind and be ready to explore different styles and sizes. Some pieces may appear ordinary on the hanger but turn out to be extraordinary once worn. Don't hesitate to try on clothing that doesn't exactly match your usual style. You might be pleasantly surprised.
Check the quality of the clothes
Before purchasing a clothing piece, make sure to check its quality. Examine the seams, zippers, buttons, and pockets to ensure they are in good condition. Look at the label to learn about the fabric composition and care instructions. Ensure there are no stains, holes, or signs of excessive wear. Quality is essential to ensure that your purchase lasts a long time.
Lookout for popular brands
Thrift stores are often the perfect place to discover designer clothing or quality brands at affordable prices. If you're familiar popular brands, keep an eye out for their labels. Clothing from these brands can be sold at a fraction of their original prices. It's also an excellent opportunity to invest in high-quality items without breaking your budget.
Don't forget shoes and accessories
Don't limit your search to clothing alone. Thrift stores also offer a wide variety of accessories, shoes, handbags, and jewelry. Accessories can add a unique touch to your outfit, and you might uncover vintage treasures that you wouldn't find elsewhere. Secondhand shoes can also be an interesting find, but make sure they are in good condition and comfortable.
Patience is the key to finding real gems in thrift stores. Sometimes, you have to browse through numerous racks or visit several stores before discovering the perfect piece. Don't be discouraged if you don't find anything on your first visit. Thrift store inventories constantly change, so keep searching and come back regularly to maximize your chances of finding exceptional clothing at affordable prices.
In the end, thrift store shopping can be a fun and eco-friendly experience. By following these five tips, you'll maximize your chances of finding quality pieces that match your style, all at an affordable price. So, get ready to explore thrift stores in your area and uncover hidden treasures.
Save more on your wardrobe at allsales.ca!