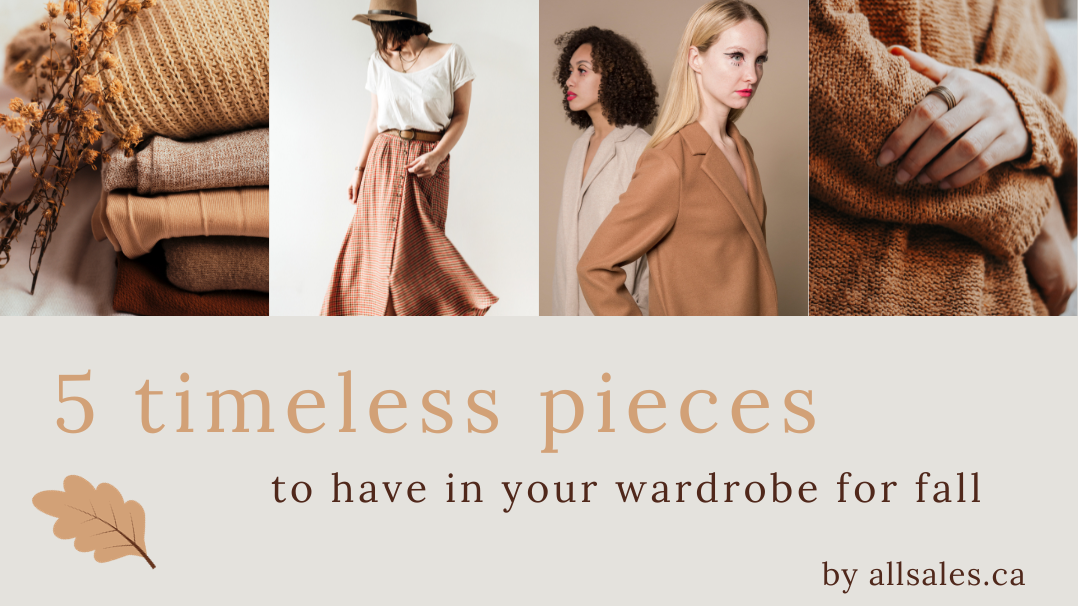 18 Sep

5 Timeless Pieces to Have in Your Wardrobe For Fall

Fall is the perfect season to invest in clothes that will not only keep you warm but will also remain trendy year after year. Here are some timeless pieces to consider for your fall wardrobe!

For a casual fall outfit, wear your trench coat open over jeans and a soft knit sweater. Leather boots can complete this look, adding an extra touch of style.

On the other hand, the trench coat can easily be transformed into a key piece for formal events. Worn closed with a belt at the waist, it creates a flattering silhouette that enhances femininity while maintaining an elegant look. Paired with a dress or a suit, it becomes the perfect outfit for a chic evening.

In addition to keeping you warm as temperatures start to drop, it offers lots of style possibilities. For instance, you can wear your sweater over a button-up shirt for a preppy and sophisticated style. A lightweight summer dress can be transformed into a suitable fall outfit by adding a sweater on top.

By pairing it with stylish accessories like a chic belt, sparkling jewelry, and high heels, you can create a sophisticated outfit, perfect for a special evening or a night out with friends on a cool fall evening. On the other hand, if you prefer a more casual look for an the day, simply combine your little black dress with simpler and comfortable accessories.

Accessorizing your look with a knee-high boot is an excellent way to stay both stylish and warm. Wear it over skinny jeans, leggings, or textured tights, or with a skirt.

A good pair of classic-cut jeans is a strong foundation for your wardrobe, no matter the season! Choose a fit that suits you well and can be worn with various types of footwear.

By investing in these timeless pieces, you can build a versatile and long-lasting fall wardrobe that will serve you well throughout the year! Mix and match your clothing items to create a variety of looks suitable for different occasions.
*Prices are of September 18, 2023, and are subject to change without notice.