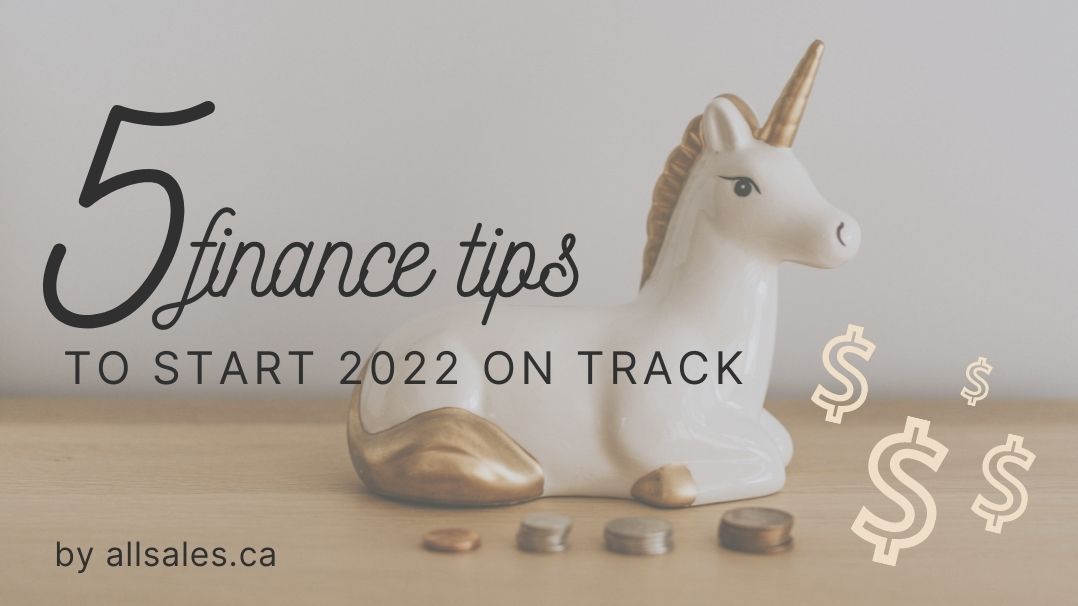 17 Feb

5 Finance Tips to Start 2022 on Track
If you made a New Year's resolution to take better care of your finances, here are some tips that may help you. It's never too late to start, and we can always do better!
A FEW WEEKS AGO, WE SHARED WITH YOU 5 TIPS TO KEEP YOUR 2022 RESOLUTIONS, AND THEY CAN HELP YOU IMPLEMENT THESE FINANCE TIPS IN YOUR DAILY LIFE!
THE OBJECTIVE SEEMS OBVIOUS; AVOID THE GAP BETWEEN YOUR INCOME AND YOUR EXPENSES. OR RATHER AVOID SPENDING MORE THAN YOU EARN. MAKE A BUDGET…AND STICK TO IT! TAKING THE TIME TO DO IT IS ONE THING, BUT MAKing SURE YOU are following IT is another thing. IT WILL TAKE DISCIPLINE, BUT LIKE ANYTHING THAT REQUIRES EFFORT, THE RESULTs  WILL BE WORTH IT!


CERTAIN FINANCIAL INSTITUTIONS SUCH AS DESJARDINS AND NATIONAL BANK OFFER THEIR USERS ONLINE TOOLS TO MAKE THEIR BUDGET EASILY.
IT IS IMPORTANT TO have AN EMERGENCY FUND, A CUSHION TO reduce the impacts of UNexpected costs THAT CAN HAPPEN SO QUICKLY. IN A SAVINGs-tYPE ACCOUNT, ACCUMULATE A FEW DOLLARS PER WEEK AT THE START.
SOMETIMES YOU MAY NOT REALIZE IT, BUT THE small UNNECESSARY EXPENSES WE MAKE HERE AND THERE WOULD BE MUCH MORE BENEFICIAL IN an emerrgy FUND THAT ALLOWS US TO SURVIVE THE CONTINGENCIES!
IF THE ANSWER TO THE QUESTION "DO I REALLY NEED IT?" IS "NO" OR "NOT REALLY", RECONSIDER YOUR PURCHASE.
 
USE THE 5-MINUTE AND 24-HOUR RULES TO MAKE AN INFORMED CHOICE. WHEN YOU SEE AN ITEM THAT INTERESTS YOU, TAKE 5 MINUTES and DO SOMETHING ELSE (GET SOMETHING TO EAT, GO FOR A WALK, Fold the cleaned laundry, ETC). IF YOU COME BACK AFTER 5 MINUTES AND YOU ARE NO LONGER INTERESTED IN THE ARTICLE, EMPTY YOUR BASKET. IF YOU still want it, THEN USE THE 24-HOUR RULE.
IF IN 24 HOURS YOU STILL CONSIDER THAT IT IS A NEED, OR THAT YOU THOUGHT ABOUT IT DURING THE DAY…go back to THE FIRST QUESTION! 🙂

WHOEVER SAID MONEY CAN'T BRING HAPPINESS DIDN'T KNOW WHERE TO SHOP.
– Blair, Gossip Girl
WHY PAY FULL PRICE ON AN ITEM WHEN YOU CAN FIND THE SAME QUALITY,  maybe THE SAME PRODUCT, FOR CHEAPER?
THIS IS WHERE allsales.ca comes in handy! WE find THE BEST DEALS AND WAREHOUSE SALES FOR YOU TO SAVE ON EVERYTHING YOU NEED.
WHETHER It'S A FINANCIAL SECURITY ADVISOR OR A FINANCIAL PLANNER, WORKING WITH A SPECIALIST IS A WAY TO BE GUIDED IN THE BEST POSSIBLE CHOICES AND OPTIONS. AGAIN, IT'S NEVER TOO LATE TO CONTACT SOMEONE TO HELP YOU!