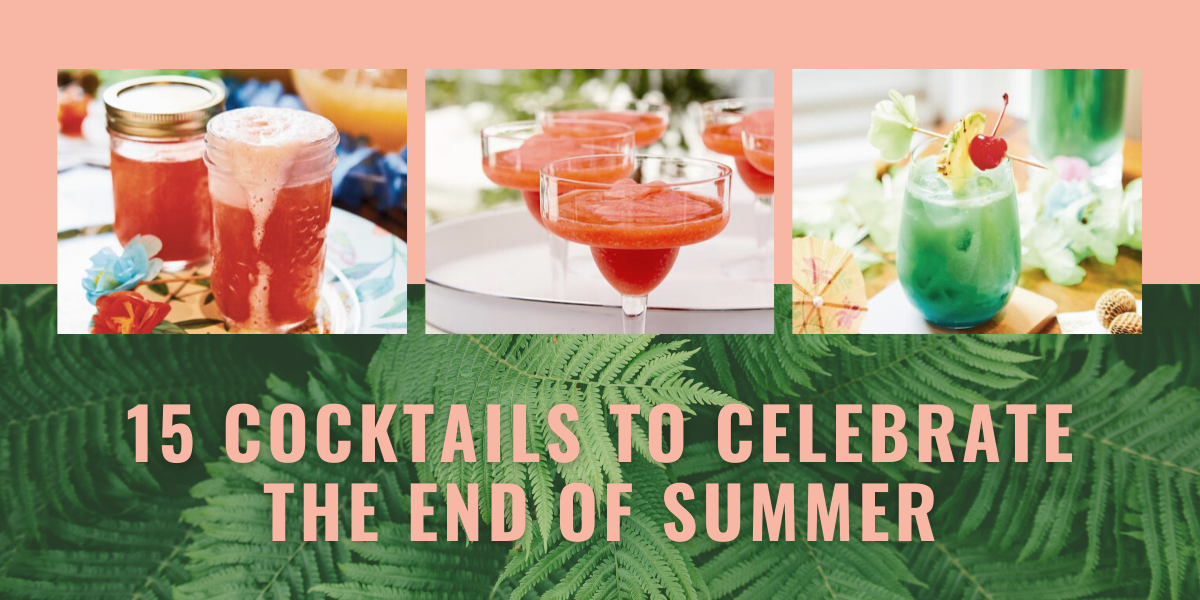 07 Sep

15 Cocktails to celebrate the end of summer

Holidays are over for most of you, but that's no reason not to end the summer in a nice way! What's better than enjoying those last warm days on your balcony with a daiquiri or a tonic gin? Here's a list of our best cocktails that you should try!


Ingredients : blackberries, sugar, water, prosecco, Pimm's No.1

Ingredients : pineapple juice, white rum, coconut milk, blue curaçao, pineapple

Ingredients : fruit beverage, white cranberry juice

Ingredients : cranberry juice, sugar, vodka, triple sec, lime juice

Ingredients : gin, cucumber, basil, cardamom syrup, lemon juice, club soda, rose petals

Ingredients : rosé wine, sugar, strawberries, water, lemon juice

Frozen cucumber margarita with chili-sumac salt

Ingredients : cucumbers, sea salt, chili powder, sumac, lime juice, coconut water, silver tequila, simple syrup, cilantro

Ingredients : white rum, citrus liqueur, dry gin, vodka, tequila, cola, lemon juice

Ingredients : vanilla ice cream, bourbon, heavy cream, sweet vermouth, sugar, angostura bitters, chilled cherry soda, cherries

Ingredients : passion fruit nectar, lime juice, grenadine, egg white

Ingredients : limes, strawberries, sugar, white rum

Ingredients : lemon, mint, strawberries, rum, sugarcane syrup

Summer sangria with watermelon and pineapple

Ingredients : moscato, brandy, lime, watermelon, pineapple

Tequila-watermelon aguas frescas with prosecco

Ingredients : water, sugar, watermelon, tequila blanco, lime, mint, prosecco

Ingredients : sugar, water, thai basil sprigs, lemon, orange, pinot grigio, brandy, orange juice, club soda

Now you know what to savor while relaxing or what to offer to your guests for future evenings!