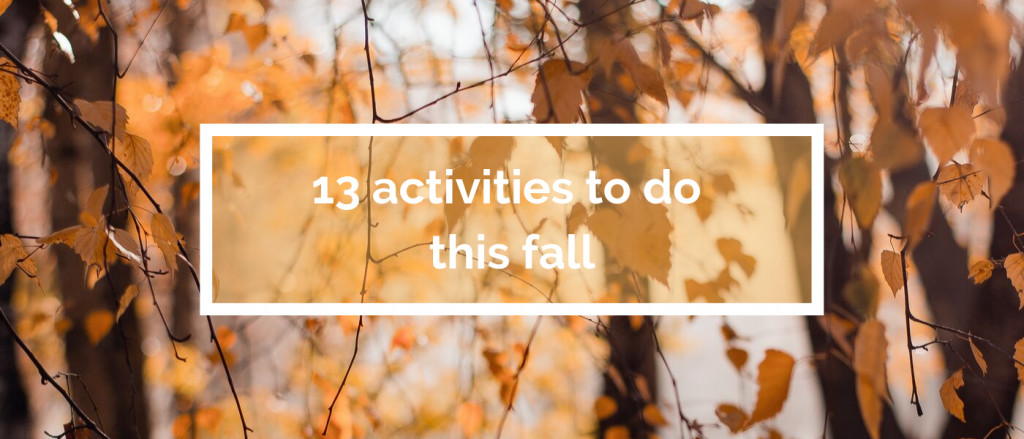 24 Sep

13 activities to do this fall

Fall is here already and you might have run out of ideas for activities to do because of all you did last the summer. So here are some activity suggestions you could do during the next months. 
Aura
Come celebrate the natural beauty of the Notre-Dame Basilica through lights and multimedia installations. The 45 minutes activity is split in two parts. First you get the chance to walk on a path full of lights. Then you will see a 3 parts classical music show with multimedia effects.
Where : At the Notre-Dame Basilica (Montreal)
When : From Monday to Saturday, all year round 
How much : Between $15.50 and $26.50 
Details : https://www.aurabasiliquemontreal.com/

Exporail – Railway ghosts
Discover the story of trains while walking in the decor of a haunted station! Costumed characters, DIY workshops and train tours will be offered. 
Where : 110, Saint-Pierre road (Saint-Constant)
When : From Wednesday to Sunday, October 12th to 31st 
How much : Between $0 and $20.80 (family package available)
Details : https://www.exporail.org/activites/fantomes-ferroviaires-clin-d-oeil-a-l-halloween/

Festival des couleurs de Rigaud
For its 22nd edition, the Festival des couleurs de Rigaud is a good way to have a great time outdoors, see shows, participate in workshops, meet artists and taste local products. Shuttles will be available from Montreal to allow you to participate in that beautiful festival. 
Where : 15, Boisé-des-Franciscaines road (Rigaud)
When : October 12th to 14th
How much : Free and paid activities
Details : http://www.festivaldescouleurs.com/

Horrors festival
The horror festival is back to La Ronde with its monsters that are roaming around the park. You will also enjoy a variety of haunted houses, horror shows and zones. Don't hesitate to put on your best costume and come experience the thrills and activities! 
Where : At La Ronde (Montreal)
When : October 5th to 27th, Saturdays and Sundays + Monday October 14th
How much : From $39.99
Details : https://www.laronde.com/fr/larondefr/special-events/fright-fest

Montreal Halloween festival
For its second edition, the Montreal Halloween festival offers a program for all ages. Meet costumed characters, listen to horror movies and see live shows. Don't forget to disguise yourself!
Where : Quartier des spectacles (Montreal)
When : October 18th to 31st
How much : Free and paid activities
Details : https://www.mtl.org/fr/quoi-faire/festivals-et-evenements/festival-halloween-mtl-montreal

Gardens of lights
The Chinese Garden is completely transformed by a millennial Chinese tradition. It is all lightened by colorful and multi shaped lanterns, designed in Montreal and handmade by craftsmen from Shanghai region. You can also admire the seasons inspired lights of the Japanese garden and the multimedia experience of the First Nations garden. 
Where : Botanical garden (Montreal)
When : September 6th to October 31st
How much : $16 to $21
Details : https://comm-espacepourlavie.ca/experiences/automne/?gclid=EAIaIQobChMI__-fk-Hn5AIVBqSzCh1J5At1EAAYASAAEgLC_fD_BwE

The great pumpkin ball
Each year a pumpkin decoration contest is offered to Province of Quebec residents and the beautiful pumpkins are exposed at the botanical garden. You can also listen to the animated tale and meet the witch Esméralda. A playground is also there for the kids. 
Where : Botanical garden (Montreal)
When : October 4th to 31st
How much : $0 to $20.50 (family package available)
Details : http://calendrier.espacepourlavie.ca/le-grand-bal-des-citrouilles

Les promenades fantômes
Those historical courses make you visit Old Quebec while listening to Nouvelle-France legends, accompanied by historical characters. A funny and scary way to learn more about our history. 
Where : 12, Sainte-Anne road (Quebec)
When : All year, variable schedule by the activity
How much : $0 to $30 
Details : http://promenadesfantomes.com/accueil/

Mont-Saint-Bruno National Park
Mont-Saint-Bruno national park invites you to enjoy its numerous hiking & bike trails, outdoor activities, orchard and even a tea saloon. This natural beauty is only a few kilometers away from the metropolitan region. 
Where : 330, des Vingt-Cinq Est row (Saint-Bruno-de-Montarville)
When : All year
How much : Variable prices, free for kids
Details : https://www.tourisme-monteregie.qc.ca/membre/parc-national-du-mont-saint-bruno/

Pirate orchard
The pirate orchard allows families to do apple and pumpkin picking while enjoying shows, playgrounds, inflatable games ($2), a farm and a lunch spot. The playgrounds are adapted for the little and big ones. Your kids will get to meet farm animals and to play with rabbits. Apple products are also sold at the orchard.
Where : 2319, 209 road (Saint-Antoine-Abbé)
When : All fall
How much : Free access to the orchard
Details : https://www.vergerdupirate.ca/activites-produits/

Labonté orchard
Labonté orchard offers you a cozy place for apple and pumpkin picking with your family. You can also enjoy a riddles hunt in the three corn labyrinths, the farm, the playground, the little bistro and a shop of homemade products. 
Where : 2291, Perrot boulevard (Notre-Dame-de-l'Île-Perrot)
When : July to October
How much : Access fee of $2.60, variable prices for the activities
Details : http://vergerlabonte.com/le-verger/histoire-et-mission-du-verger/

Haunted Village
The haunted Village invites you to discover its 20 freaky horror concepts in the village houses and on three kilometers of roads and trails. You can also enjoy the 5D cinema, the donuts shop, the cheese shop and the bakery. There is also a diner and horror night bundle offered to those who like to be scared. 
Where : 1425, Montplaisir road (Drummondville)
When : Fridays and Saturdays from September 28th to October 26th, Sunday October 13th and Saturday November 2nd.
How much : $0 to $27.40 (family package available)
Details : https://villagequebecois.com/village-hante/

Granby Zoo
Visit the zoo when all the trees in autumn colours. You could see 1,500 animals from 225 exotic species and 90 aquatic species. The amusement park is even open until November 3rd! 15 themed shows are also offered to you every day by the zoo guardians who reveal all their secrets. You will get the chance to enjoy the Dinozoo and its 21 gigantic animated dinosaurs in an outdoor trail. Finally, it is Halloween at the zoo all October week-ends. Costumed characters, animation and surprises will be there for you. Don't forget to put your costume on! 
Where : 525, St-Hubert road (Granby)
When : September 7th to November 3rd
How much : $0 to $34.85 (family package available)
Details : https://zoodegranby.com/fr/le-zoo/automne