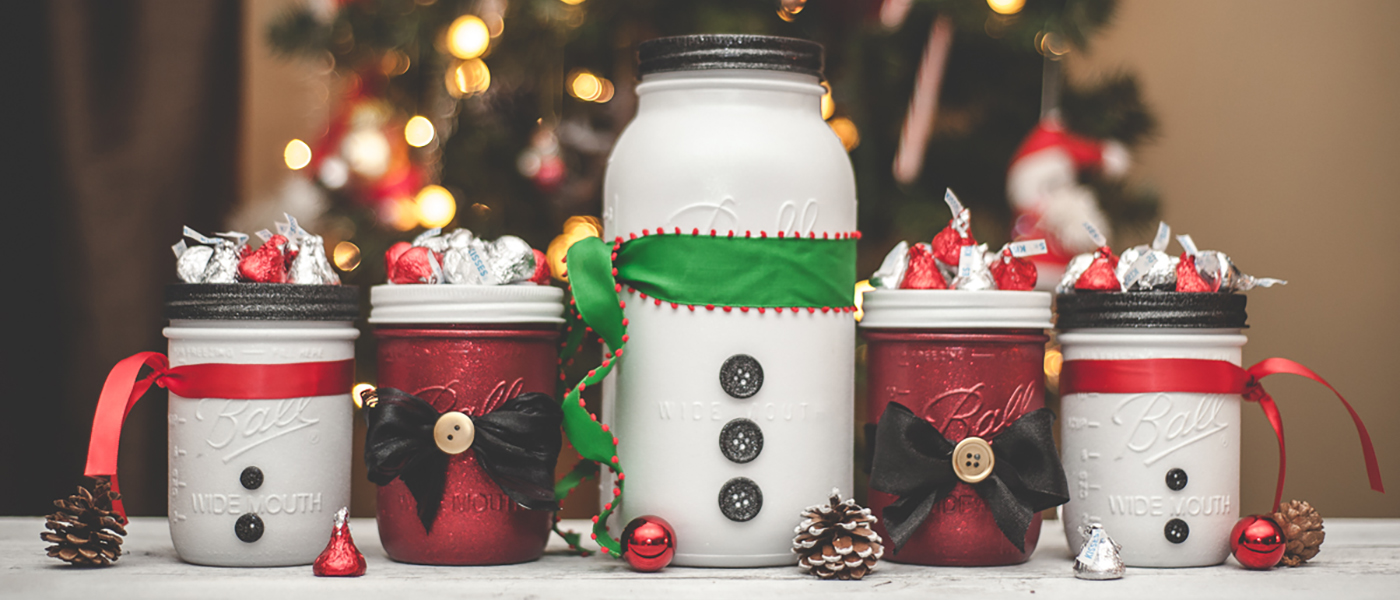 28 Nov

12 Christmas Gift Ideas to Offer in a Mason Jar

By Mélissa Toutant, collaborator

Christmas music, family meals, sweets and ornaments will soon fill our hearts with well-being and joy. The holiday season is, for some, a moment of pure happiness and simplicity, while for others, preparation becomes a real headache. For your convenience, here are 12 unique and original gift ideas to offer in a Mason jar!
1. Cookie kit
Ideal as a hostess gift, the cookie mix is decadent and will certainly please anyone. Simple to make, it requires few ingredients, including flour, brown sugar, baking powder, salt, dark or milk chocolate chips and oatmeal. Find all quantities on the Ricardo website.
---
2. Soup mix
What is more comforting than a hot soup in the winter? Give an unusual gift by arranging all the dry ingredients for a soup. There will be nothing left but the wet ingredients to add by the one who will receive your present.
---
3.Full of candies
Lovers of sweets will be delighted to receive a jar filled with their favorite candies. You can create custom blends by going to bulk grocery stores.
---
4. Tea essenstials
In a Mason jar, add a few tea bags, measuring spoon, filters and crackers to offer an hour of tea as a gift – bonus if you give a jar with a handle!
---
5. Woman's essentials
Lipstick, nail polish, nail file, hand cream and other cosmetics and manicure products will create a nice little set to offer to a woman around you.
---
6. Hot chocolate mix
Add to your mason jar some rich hot chocolate powder, a bunch of marshmallows and some Graham biscuits. You'll have a perfect hot chocolate mix for cold days.
---
7. Cocktail mix
Create the drink of your choice, like a rum and coke! Put a soft drink in a jar, hang a mini bottle of rum, and you're done! You can also decorate with ribbons, and add a straw to make it more fun.
---
8. Terrarium
Pour a small amount of soil at the bottom of a jar and all the small plants and succulent plant you want. Make sure to choose the plants carefully, so they are fit for this kind of environment.
---
9. Homemade candle
Add some wax to your Mason jar to make a custom candle. You can even choose the color and the smell.
---
10. Spice mix
The perfect gift for those who love to cook. You will be able to create unique spice blends, such as an Italian blend (basil, oregano, thyme, rosemary and onion powder), a Mexican blend (ground chili, cumin, onion powder, ground nutmeg, chilli pepper). Jamaica and ground clove) or a mixture of pumpkin and gingerbread (ground cinnamon, ground ginger, ground nutmeg, allspice and ground clove).
---
11. Nut mix
Create an energizing nut mix, full of proteins and flavour. You will need dried apricots, almonds, pumpkin seeds, blackberries, grated coconut, cashews and dark chocolate chips. Check out the recipe right here.
---
12. Movie night kit
A good movie with family or friends is a perfect activity for winter evenings. In a jar, put popcorn, chocolate bars and candies.
With all these simple ideas, but oh so charming, your gifts will please! Take inspiration from everyone's tastes to customize other types of presents in Mason jars. The possibilities are almost endless. Merry Christmas!