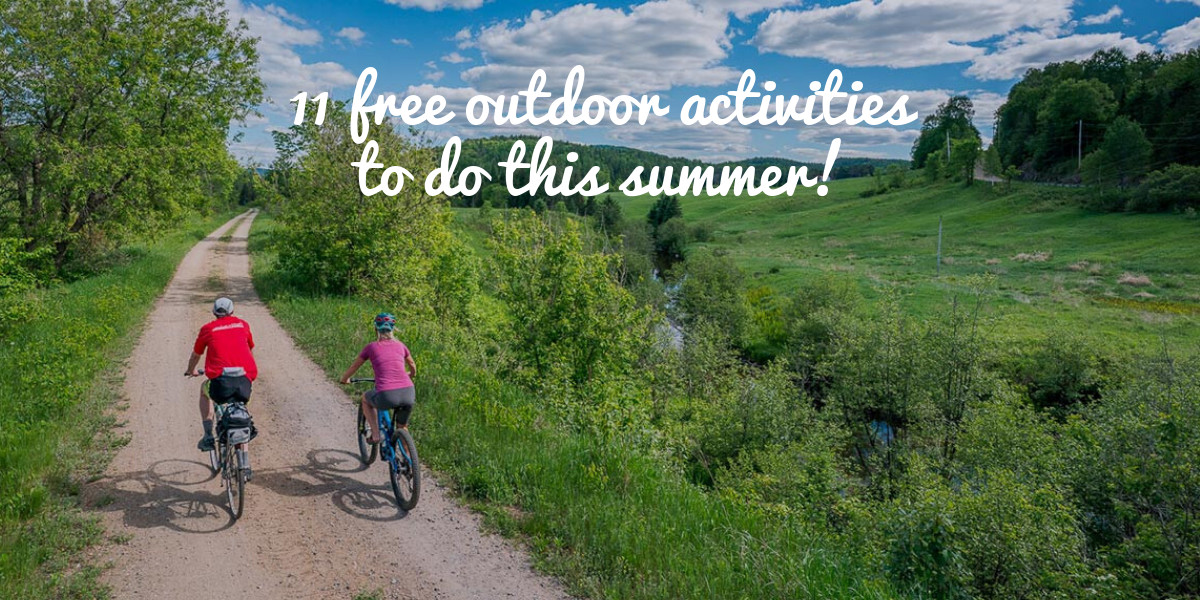 07 Jul

11 free outdoor activities to do this summer

Staying in Quebec or close to home this summer? Find great ideas and discover 11 free outdoor activities to do in 7 different regions!


Canada's Capital Region is home to the Capital Pathway network, one of the largest in North America. More than 600 kilometres of multi-use paths link superb natural areas, parks, gardens, museums and attractions.


In the summer, enjoy one of our two supervised public beaches located on the Magog River and Lake Magog. The water at both swimming locations is regularly monitored and analyzed.

The Parc de la Cité is located between boulevard Gaétan Boucher and rue des Orchidées; between boulevard Julien Bouthillier and boulevard Cousineau. Each of these streets has an entrance to the park; another entrance is located at the end of Davis Boulevard.

The park is 960,000 square metres (10,300,000 sq ft) in area. This parc has an artificial lake 1.1 km long. It includes a large grass-covered field, as well as 8 kilometres (5.0 mi) of trails, one of which leads to the Raymond-Lévesque Library.

Just minutes away from Montréal, RécréoParc offers a privileged access to nature in an extraordinary setting. With magnificent views of the Big City and of the St-Lawrence River, this gem on the South Shore offers a wide array of activities for all seasons: a large, sandy beach; trails for cycling, hiking, cross-country skiing, snowshoeing and bird watching; a designated nautical area for kayaking, fishing; boat ramp; coffee shop/restaurant in an all-new welcoming centre overlooking the rapids. 

*Free access for residents of Sainte-Catherine, Delson and Candiac


Discover the Parcours des Anses, one of the most beautiful cycling path in America !Along the Saint-Lawrence River, the Parcours des Anses is a 15 km entirely paved path perfect to run, walk, roller-skate or ride your bike. This unique cycling path offers a panoramic view of the fortifications of Quebec City, the Frontenac castle, Île d'Orléans and the Montmorency Falls.


Le P'tit Train du Nord linear park is a 232-km cycle path built over an old railway line from Bois-des-Filion to Mont- Laurier: it's the longest park of its kind in Canada! Enjoy a great outing on your bike or in-line skates. While roaming about, you will have an opportunity to visit some of the lively nearby towns and villages, where you will find a wealth of heritage railway stations.

The Parc du Corridor aérobique is open to cyclists looking for an outing right in the heart of nature. The Corridor offers a 58-km circuit which runs through wild landscapes dotted with lakes and green valleys, through territories and picturesque villages : Amherst,  Huberdeau, Arundel, Montcalm, Lac-des-Seize-Îles, Wentworth-Nord and Morin-Heights. Come and take an unusual hybrid bike ride down nature's highway!


Enjoy a walk through the city's downtown area and its historical neighbourhood as you compete to find answers to some observation questions. You'll get to know a city that is full of surprises!

If you are working as a team, spice it up by seeing who can find the answers the fastest!


The Parc de la Rivière-du-Moulin stretches on the west bank of the Moulin River east of Chicoutimi. It is bounded to the west by rue des Roitelets where the reception pavilion is located. Walking and cycling are free on marked trails in wooded terrain. The main attraction is the Moulin river, its rapids and its three falls: the Sables, Équerre and Voile de la mariée falls. You can also take advantage of the playground and picnic area for a great day outdoors!

The Véloroute du Fjord du Saguenay is a 435-kilometer long cycling circuit that skirts along the Saguenay River. Meandering along the fjord's twin banks, you'll travel along the Route du Fjord marked tourist route. Whether it's for a family outing, bicycle touring or a sports outing, there are segments for everyone!

Whether it'is for a one-day trip or for several days, let's hope these ideas will make you want to explore the province or simply enjoy the beautiful summer days near your home!

Have a great summer!