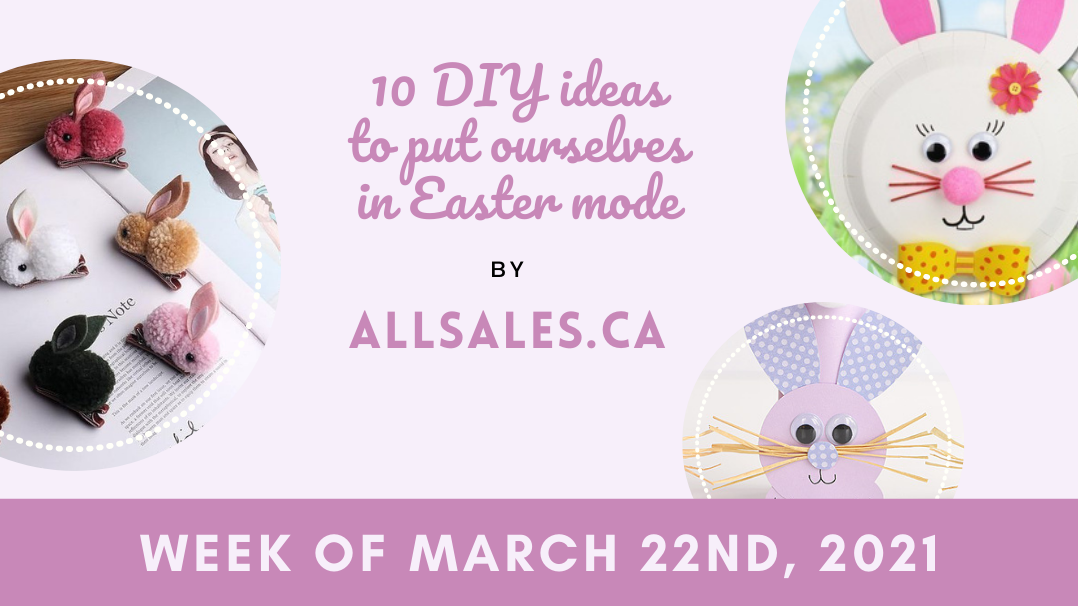 22 Mar

10 DIY ideas to put ourselves in Easter mode

Easter is just around the corner, you haven't decorated yet and you want to have fun making your own decorations? Whether you're doing it by yourself or with your family, here are 10 simple ideas that will charm kids and grown ups to decorate your home and organize Easter activities.

Why not make garlands to hang, but this time in the shape of bunnies or carrots? A simple activity that kids can do to help decorate and maybe this will make them want to eat some carrots.

So easy to make, this bunny mask can be made really quickly. The kids are gonna love it and will have so much fun playing bunny with their parents or with other kids.

This cute easter box carrot is great as a decoration, but can also be used as a little box to put mini chocolate eggs as a gift or during an egg hunt.

This really cute easter wreath is easy to make and all family members are going to love it. You can use it as a wreath to hang on a door or you could use it as a table decoration.

If you want to make an egg hunt basket, but don't feel like doing a big project, this cardboard plate basket is ideal. Made from simple products, you can customize it so everyone loves it.

These little bunnies can be made with almost everything you already have in your home. Adorable and captivating, they can easily be made by kids and adults.

Who doesn't like to play peek-a-boo? These sweet peek-a-boo clothespin eggs are quick and easy to make. Plus, kids are gonna love playing with them afterwards!

Simple to make, you can create a small family of sweet bunnies in a short time. They will be great for decoration, but could also be used as a toy after Easter.

With this cute sock bunny, you can give your socks a second life and you'll have a nice bunny to place around your house.

A great craft for everyone, from the little ones, the toddler to the adults in your house, everybody can create their own watercolor eggs. You can use a printed egg or you can draw one.

It's time! The craziness of Easter and spring is here, now is the time to start making your own decorations. Which one will you try?